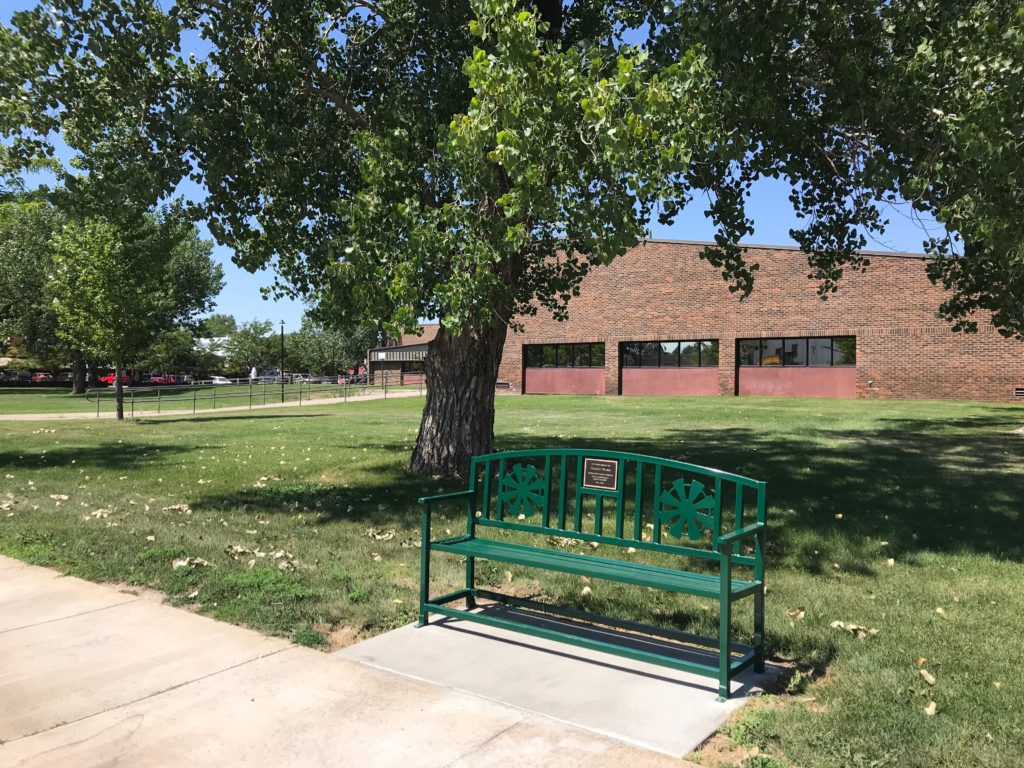 The Powder River Trials club is placing memorial benches around town and along the walking trail.
Benches are a welcoming site for visitors to the community and an inviting place to rest along a city street, sidewalk, or trail when one is needed.
Memorialize that special person with a bench in a location of your choosing around town.
Memorial Bench Donation Information/Contract
---
Scott Burley & Debbie Burley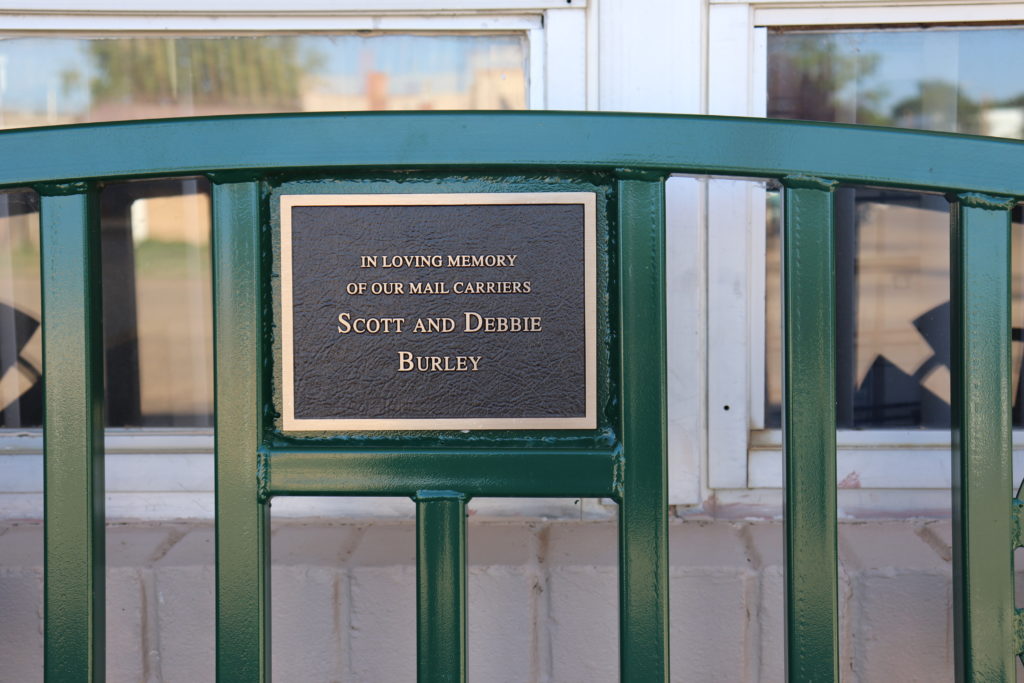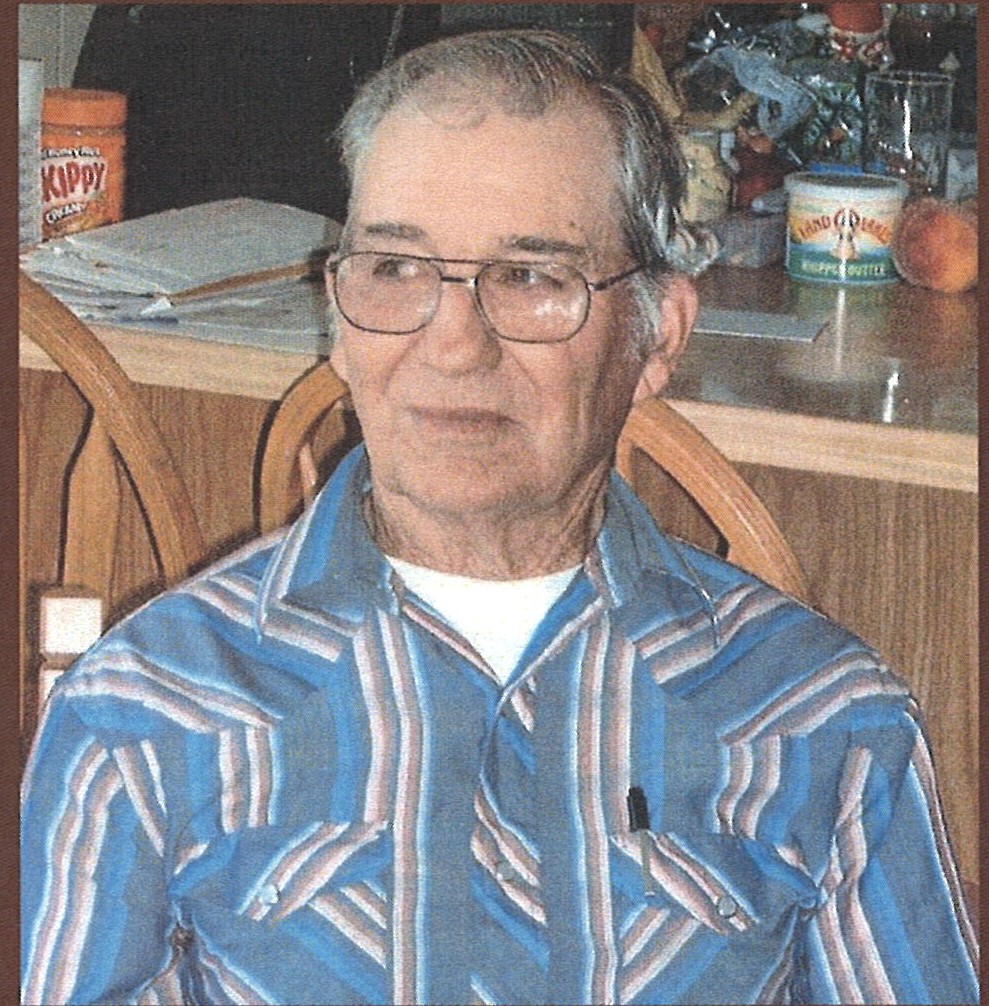 Scott Burley
November 3, 1926-October 22, 2019
Scott was born in Miles City, MT on November 3, 1926, he was the second child of four and the first-born son of James and Freda Burley. Scott attended Kelly Country School with his older sister Carrie, they often rode to school in their horse drawn cart or horseback, even when it was below zero. Scott took violin lessons as a child and later learned to play the steel guitar. Music was a big part of his life, he loved dancing and providing the music with the "Powder River Playboys" and later in years with "The San Antonio Band". Both bands were made up of family, friends, and neighbors.
Scott joined the Army in 1951 and he served his country until 1955. He then returned to his beloved ranch on the Cache Creek/Mizpah Creek. On July 16, 1956 he married his lovely bride, Vivian "Buntsy" Hurley in a double wedding ceremony with his brother Everett and bride Bonnie Cathey in Colorado Springs, Colorado. They were married 63 wonderful years. They worked the family ranch and started Burley Brothers Partnership with brother Everett. They ran cattle and sheep. Scott had several side jobs to provide for his growing family. He worked at the Truck Stop in town. In 1967 he took over Joe Gali's mail route, 3 days a week with brother Everett, they shared every other week.
Scott was blessed with 4 children whom he loved so much: Debra Burley~Feb. 18, 1957, Sheri Burley-Gali~May 19, 1962, Jerry Burley~June 18, 1969, James Burley~April 8, 1972. Scott was a proud member of the VFW Post in Broadus where he served as Secretary/Treasurer for many years.
Scott loved horses and everything about them. He rode on several wagon trains throughout the years. He loved his cow dogs "Hank" and "Spike" and his 7 greyhounds he used for coyote hunting. He was the most patient and kind man I have ever met-he will be missed.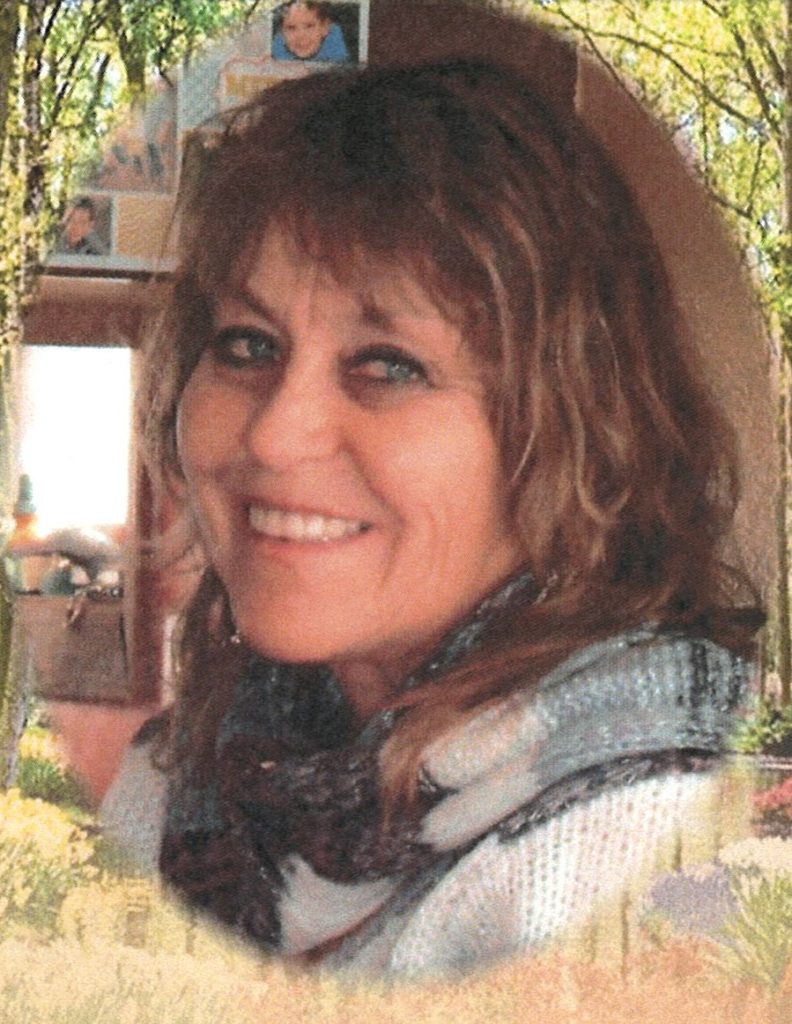 Debra Burley
February 18, 1957-September 7, 2019
Debra (Debbie) Ann Burley passed away on the evening of September 7, 2019 at the Advanced Care Hospital in Billings, MT. At the age of 9 she was diagnosed with diabetes which later led to vascular and Heart Disease. She was comforted and surrounded by her family. She was 62 years young.
Debbie was born at the Holy Rosary Hospital in Miles City on February 18, 2957. She was the first born child of Scott and "Buntsy"/Vivian Burley but later welcomed sister Sheri and brothers Jerry and James.
Deb attended the Two Tree Country School through the 6th grade and then moved on to the Powder River High School in Broadus, where she graduated in 1975.
In 1976 she married Keith Black and one year later, in 1977, they welcomed their only son, Travis Keith Black, to this world. They lived in the Belle Creek area for approximately 6 years and moved on to Denver, CO in 1986, where she and Keith were later divorced. Deb and Travis moved to Billings, MT and she worked as a travel agent for a short time. Another big move was ahead of them as they went on to Spokane, WA where she worked for a School Portrait Studio for 2 years. Missing Montana, Deb and Travis moved back to Billings, MT in 1990. It was at this time that she started working for Omo Construction, doing road construction, and continued there for years until her health became an issue and she could no longer work. She met her significant other, Ron Dalke, while working at Omo Construction and was with him up to her death.
Deb was a very hard worker at whatever she was doing, but she loved being out on the ranch … the country was her "home". She was a rockhound and collected agates and many other rocks, but one of her favorite things to do was to search for arrowheads out there. She had quite an impressive collection of time. She enjoyed riding all over the place with her 4-wheeler and her dog, Charlie. She also spent many hours in her garden and loved her time with her flower beds. But she would always tell everyone, above everything else, her pride and her joy was with her 4 grandkids, Jordan, Kane, Kylie, and Rowynn Black. She was so excited to be able to hold newest granddaughter, 4 month old Rowynn, whom she called her "Little Buckaroo". It is with these other 3 grandkids that Deb took trips, found projects to do, shopped, scouted for arrowheads, laughed, cried and maybe even got into some mischief!! She also enjoyed her Pool League with friend Karen Pino and their local team "Maiden Silver Co".

---
Charley Stabio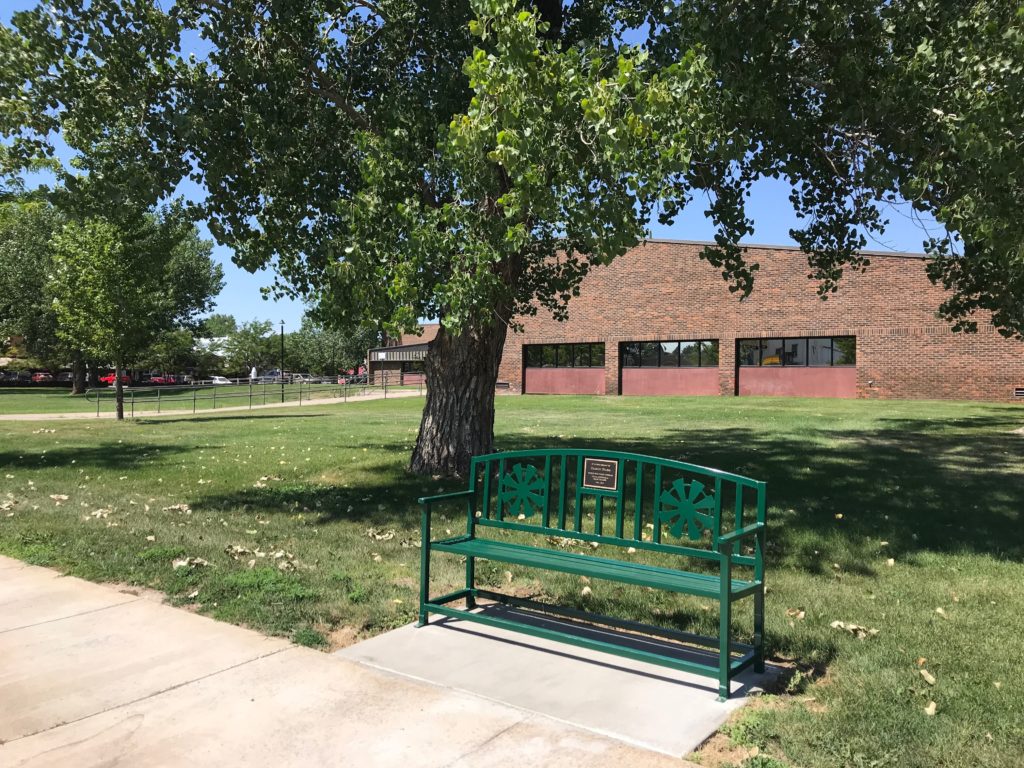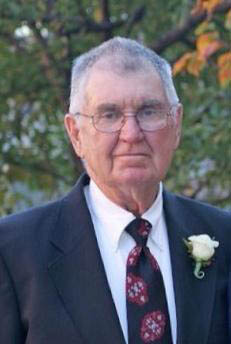 Charley died on September 4th, 2018, just days after his 94th birthday, at the Powder River Manor where he had resided for four years. The loving care provided by the Manor staff filled his time there with smiles and good memories. The daily visits by his wife Betty and daughter-in-law, Theresa Alderman & her family, brightened his days along with greeting nearly everyone who visited the Manor.
Charley experienced his childhood on his parents' homestead in the Boyes Community with his eight siblings. He always said he was happy to be a trucker rather than a farmer when he remembered the days of hard work at home. He joined the Navy on June 16, 1944, shipping out for Guam from Camp Mugu at Oxnard, California, on the U.S. General Patrick at the age of 20. He operated heavy equipment, loading and unloading planes and other equipment from aircraft carriers. He said the best day of his deployment was when they received news that the Japanese had surrendered, ending World War II. Charley always had misgivings about missing his mother's funeral in 1945 shortly before he was honorably discharged in August of 1946. In 2010, Charley accompanied his son, Vic, back to Guam where they toured the Naval Base and shipyard. He was privileged to visit the World War II Memorial in Washington, D.C. with many fellow veterans via the Honor Flight.
Charley was well-known to the community as he was a trucker most of his life; hauling cattle, sheep, grain, hay, gravel, and fuel. He memorized phone numbers of many local farmers and ranchers as he hauled their grain or livestock to market season after season, year after year. He misses being behind the wheel of his truck when he retired and always had a story to tell about shoveling grain or gravel and engaging in conversation with customers that he considered being his friends. Charley often reminded his trucking buddies and sons-in-law that he had backed up more miles than they ever drove forward!
Charley married Dolores Knie in 1946 and together they raised five children. They lived in Broadus, Belle Creek, and Billings throughout the nearly 40 years they were married. They divorced in 1989 and Dolores passed away in 1997.
In 1989, Charley and Betty Alderman were married and he enjoyed being a member of Betty's family. They loved to avoid cold weather by spending the winter months in Yuma, Arizona over the past 25 years, where they golfed, played cards and enjoyed new and old friends. Charley loved to dance and he and Betty seldom missed an opportunity to socialize with friends.

---
Victor P. Stabio
Cathryn Perry Davis
Charley Duane Stabio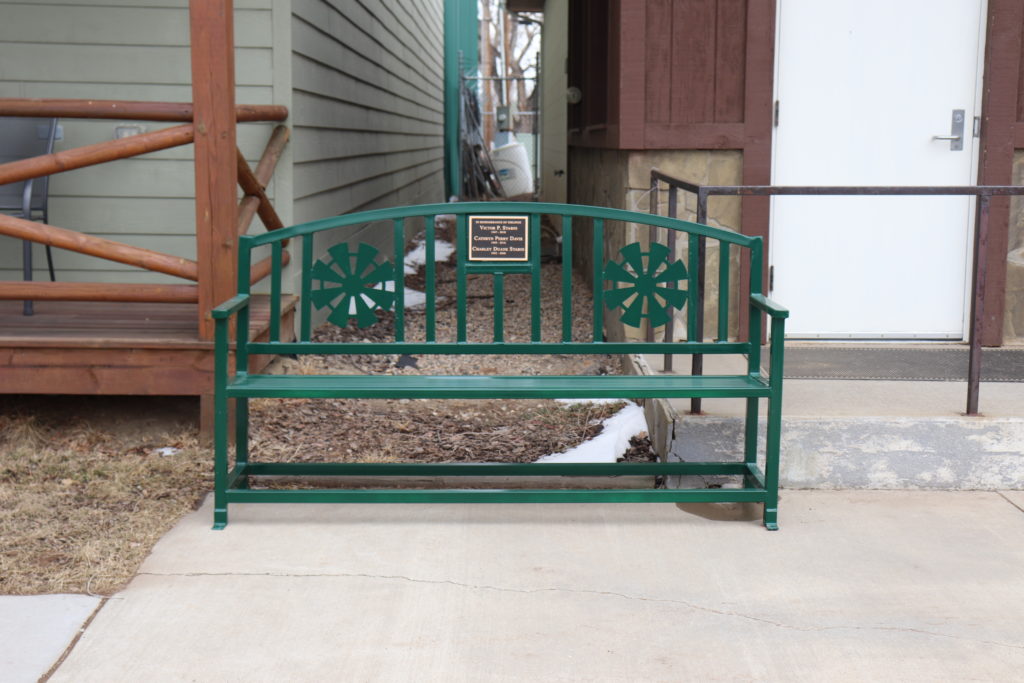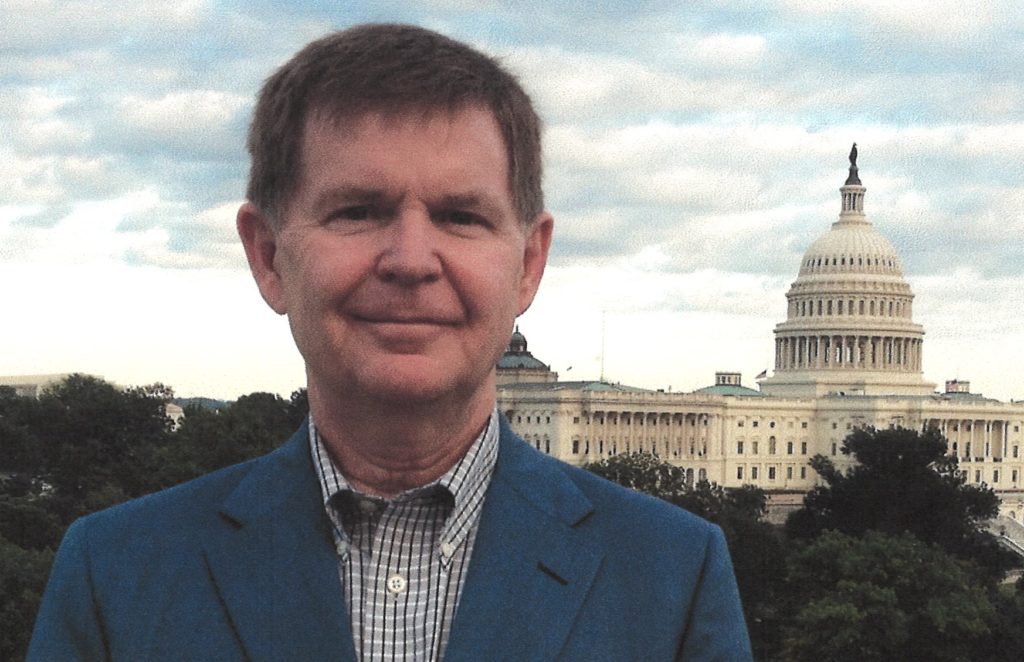 Victor Paul Stabio
December 18, 1947-March 8, 2018
Victor Paul Stabio, passed away on March 7, 2018 at the age of 70. Born on December 19, 1947 in Miles City, MT to parents Charley and Dolores Stabio, Vic was the oldest of his four siblings: Cathy, Duane, DeeDee and Mark. Ambitious even as a teenager, he held multiple jobs growing up in rural Broadus, MT. Vic met the love of his life MaryAnn (Minow) Stabio in high school and they were married in 1967. They were fortunate enough to celebrate their 50th wedding anniversary in October 2017. Vic graduated from Eastern Montana College in 1971 with a Bachelor of Science Degree in Business Administration. He originally thought he wanted to be a high school business teacher, but was hired as an intern with an Oil & Gas Company in Billings, MT, where he gained experience buying coal leases in Montana, Wyoming, Alaska, and North Dakota. He was Founder of Mountain & Plains Oil Company until its merger with Adobe Oil & Gas Corporation in 1980. After a few years as a self-employed investor and financial consultant, an exciting business opportunity moved the family to the Denver area. Vic served as Executive Vice President of Operations for High Plains Oil Corporation from 1983 to 1987. He later accepted a position of President, CEO and director of Hallador Energy where he remained for 24 years when he stepped down in January 2014, becoming Board Chairman. He was also a Director of Savoy Exploration and Sunrise Coal. Vic was instrumental in transforming Hallador from a financially challenged oil and gas exploration company to a highly successful coal mining company with an enterprise value approaching $400 million. A highlight of his career was ringing the NASDAQ Stock Market Opening Bell when Hallador Energy was listed on the Nasdaq. He will be forever missed by all for his positive outlook on life, his incredibly generous nature with everyone he met and his love of travel and adventure that he shared with his wife, children, grandchildren, relatives, and friends. Vic loved biking in the Colorado mountains and skiing with his family, enjoyed scuba diving and was an avid Denver sports fan. He especially loved coaching the Denver Broncos from his vantage point on the couch at home.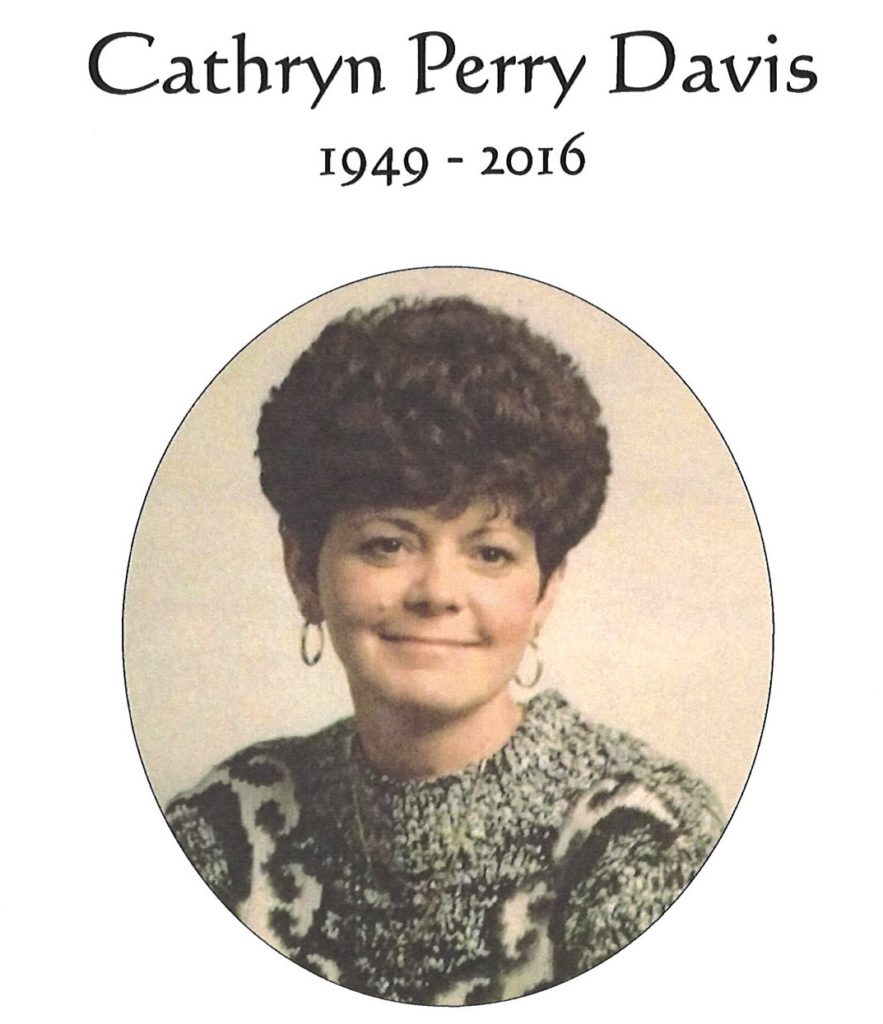 Cathryn Perry Davis
October 10, 1949-
June 24, 2016
Cathryn Stabio-Perry-Davis. Cathy was born October 10, 1949 to Charley and Dolores Stabio in Broadus, MT. Cathy passed away on June 24, at the age of 66 at home in Anderson, Alabama, after a valiant fight with lung disease and COPD. She is survived by the love of her life, David Davis; her father, Charley Stabio; her sons Charles Perry, who lives in Nashville, and Jason Perry, from Twin Falls, Idaho; brothers Vic Stabio (MaryAnn), Denver, and Mark Stabio (Mary), Billings; and sister, DeeDee Heinert (Mark), Denver. She was doting aunt to many nieces and nephews and their children. She was preceded in death by her mother, Dolores Stabio, and brother, Duane Stabio.
Cathy retired in 2013 after trucking coast-to-coast for many years. Cathy and David then enjoyed a quiet life on their ranch in rural Alabama where they had the love and support of David's family. They had friends and acquaintances on every trucking route across the country. Cathy shared her love of trucking with her dad-she and David received many lectures on the proper way to drive and how to run their trucking business.
Cathy was a very strong-willed person who took pride in working hard for an honest living but lived life to the fullest and always made an effort to stay connected to family and friends.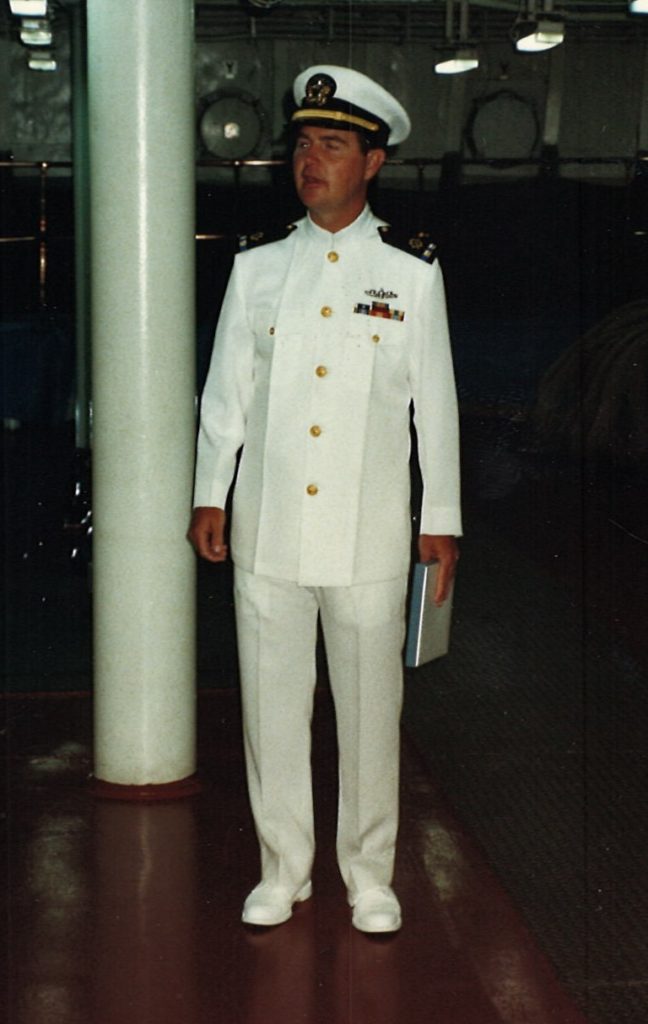 Charley Duane Stabio
1952-2008
Charley D. Stabio, 56 of Merritt Island passed away on Monday, July 28, 2008 at Cape Canaver al Hospital in Cocoa Beach. He was born in Broadus, MT and has been a resident of Brevard County since 1994. He loved to play golf and go fishing. Charley is survived by his wife, Anne-Marie Sutch-Stabio; daughter, Heather Stabio; son, Jeff Stabio; father, Charley Stabio; brothers, Victor and Mark Stabio; sisters, Cathy Davis and DeeDee Heinert; brother-in-law, Peter-John Sutch; sister-in-law, Christina Sutch and father-in-law, Peter Sutch.
---
Ken & Nellie Johnstone
Leon Olson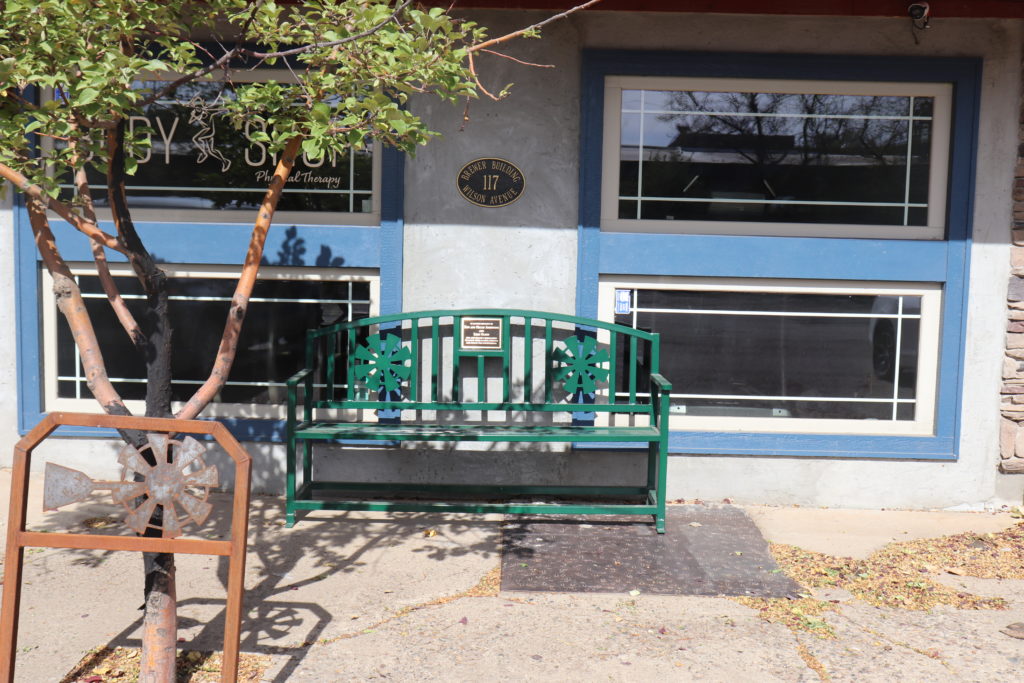 Ken Johnstone, 71
November 11, 2019
Kenneth James Johnstone, 71, passed away Monday, November 11, 2019 at his home in Broadus, MT.
Born and raised as a brave cowboy in Ekalaka, MT, the son of Johnny and Dorothy Johnstone, he graduated from Carter County High School in 1966. He was granted the nickname "Stan the Man" in his days in Ekalaka. One of his favorite places to be was on the ranch on Spring Creek where he would go branding, have cook-outs and go camping.
He met his wife, Nellie Tabolt, in Broadus and they were married in 1986. Ken worked at the Farmer's Co-op. He not only took pride in his work ethic, but truly relished the friends he made during his tenure. Over the years, his expertise and reputation led him to named "Papa" by many in the community.
Ken was an avid bowler. He would accompany many of his friends and family multiple nights a week at the local bowling alley. This led to many trips to nationals in Reno, NV. Ken was a proud papa. You could find him and Nellie at every home game of his grandchildren. Ken also enjoyed playing horseshoes, woodworking, leather crafting, and playing the guitar.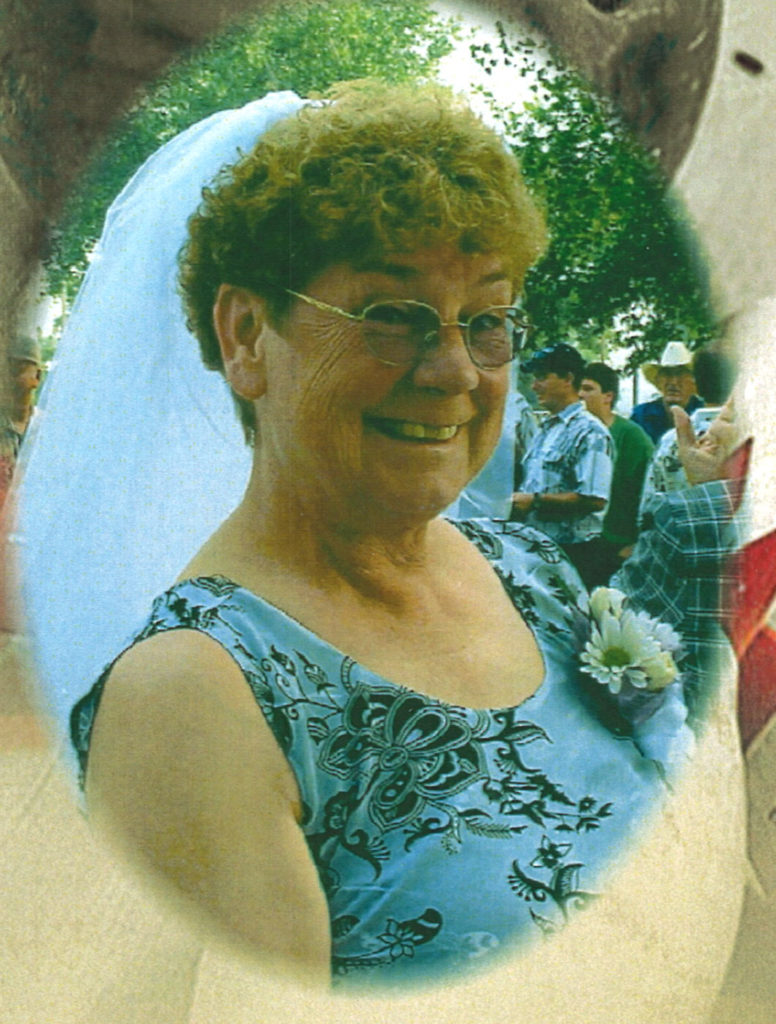 Nellie Johnstone
April 10, 1950-September 16, 2014
Nellie Mae Johnstone, age 64, of Broadus passed away on Tuesday, September 16, 2014 at the Holy Rosary Healthcare in Miles City.
Nellie was born on April 10, 2950 in Miles City, MT to Charley and Nellie Grant. She was raised in Broadus, MT and attended school in Broadus. On October 10, 1966, Nellie was blessed with a daughter, Cindy Mae. Nellie worked at many different jobs. She was a waitress, a bartender, a meat cutter, and has worked the past 28 years at the IGA store until her health forced her to retire.
She and Ken Johnstone were married on July 19, 1986 and they were the very proud grandparents of six grandchildren, two great grandsons and one great granddaughter. Nellie was an avid sports booster and really enjoyed watching her grandchildren play. She also like to bowl, play softball, do jigsaw puzzles and play "Wahoo". She was known to many, many people as nana.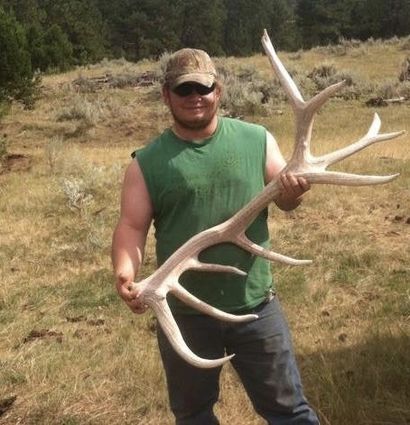 Leon Olson
June 2, 1990-January 12, 2019
On Saturday, January 12, 2019, Leon James Olson, loving son and brother, passed away at the age of 28.
Leon was born on June 2, 1990 in Miles City, MT to Chuck Sandine and Cindy (Olson) Newton. He attended high school in Broadus, MT. He spent most of his time helping his friends and family. They would often say that he had a "heart of gold."
Leon had a passion for mechanics. He relied heavily on the expertise of his mentors and was a quick learner. Leon loved to hunt and fish. He had no problem pointing out the obvious, especially when it came to how much bigger his catfish was compared to yours. Leon was a talented athlete. He was a state champion bowler in his youth and would always join in on any sport his friends and family were playing. Leon was also an avid game player, whether it be on his x-box or the family dinner table. He was known for his quick wit, his large smile, and his kind and compassionate spirit.
---
Anne & Lyman Amsden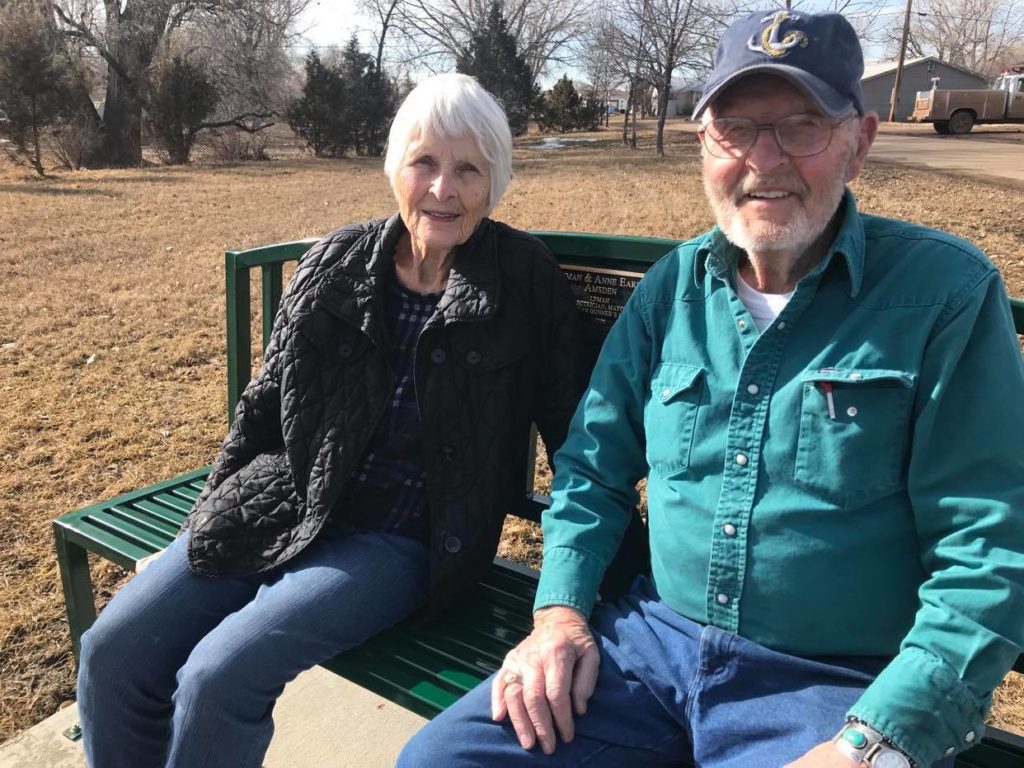 ---
Decedents of Justice Lincoln Wilson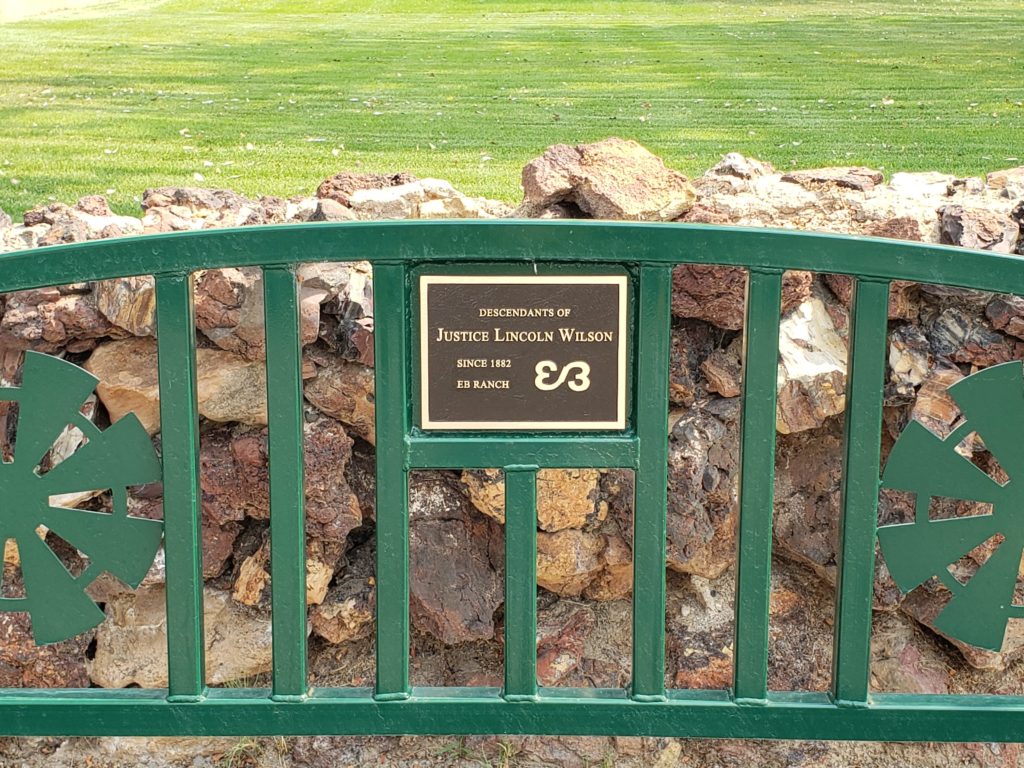 Justice Lincoln (Link) Wilson was 67 years of age at the time of his passing. He was one of the highly respected and esteemed stockmen of this region. He was the product of the farm having been born on November 22, 1860 on the old family homestead situated near Fort Wayne, Allen County, Ind. He was the son of John T. and Hannah H. (Jones) Wilson. During the early sixties his father moved to LeGrand, Iowa. Here the late Mr. Wilson received his education and continued his studies in Hastings, Neb., to which place the mother moved following the death of Mr. Wilson's father.
Mr. Wilson was born during the days when Abraham Lincoln was a central figure, and he was given the middle name of Lincoln, and it has been remarked that he was a great student of Lincoln and seemed to model his life after that great man. Mr. Wilson was a big man mentally and physically, and was accustomed to doing things in a big way.
Mr. Wilson married when just 21 years of age and with his young bride in 1882 traveled overland to the Powder River Country, then Custer County. Starting out with a span of mules and two colts, Mr. Wilson rose to become identified with the development of this region. He was a picturesque character, a keen observer, capable as a business man, and enjoyed successes until he became owner of 5,000 acres of land and thousands of head of sheep and other livestock. He took an active part in every movement calculated to build up his community and he gave of his time and talent to further the interests of the livestock men of southeastern Montana.
His marriage on January 29, 1882 to Miss Margaret Duncan, a native of Savannah, Illinois, was blessed with the births of sons and daughters, Earnest Lee, William Ray, Julinala and Helen, all of whom together with the widow, survive. He was a member of the Odd Fellow lodge and the Elks Lodge of Miles City.
---
Lee & Phyllis Smith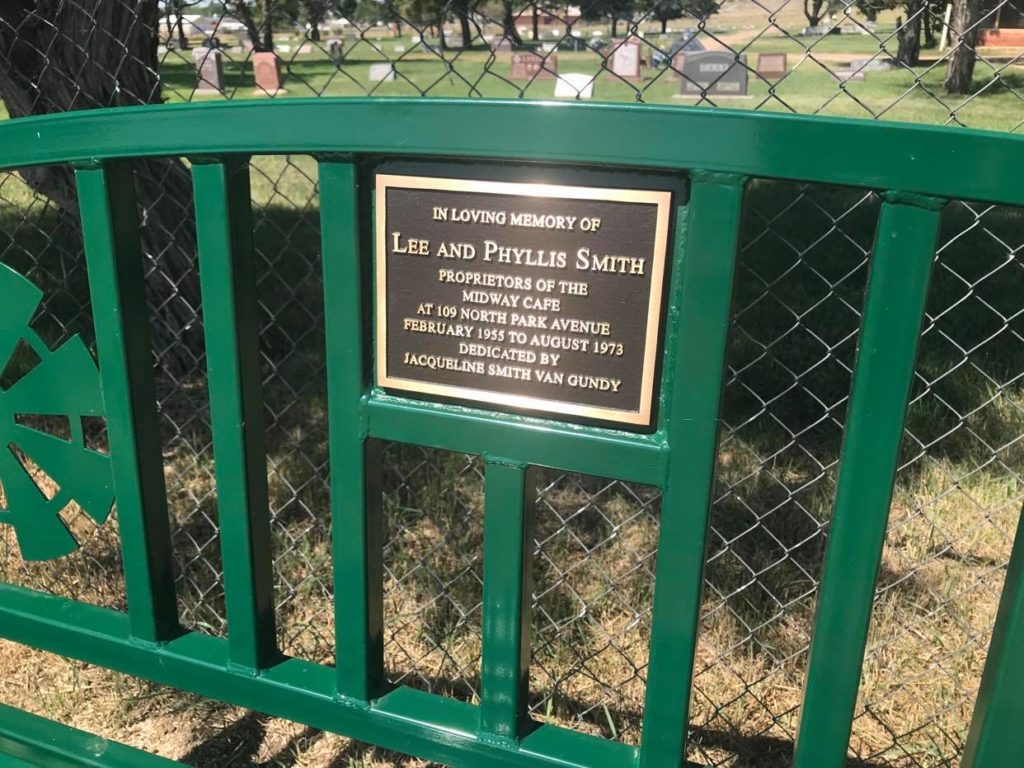 ---
Elna Linville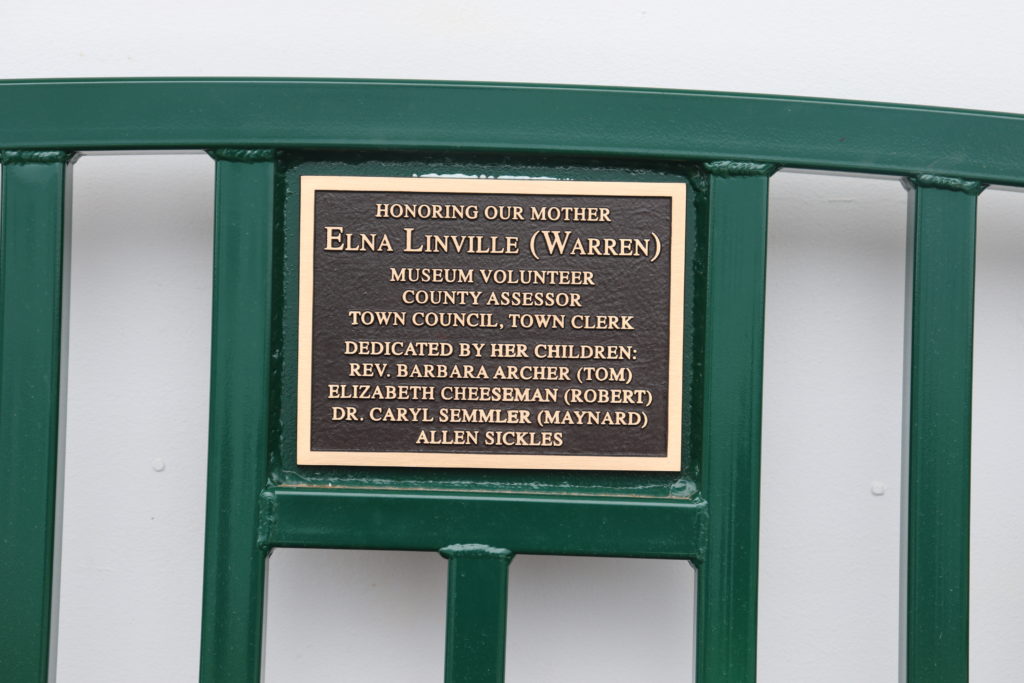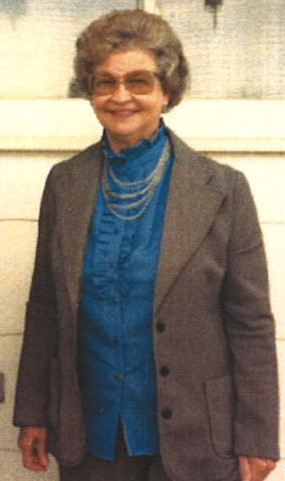 Elna Linville
May 30, 1922-
April 9, 2001
Elna Gertrude Linville, age 78, of Broadus passed away Monday, April 9, 2001 at her home in Broadus.
Elna was born in Alta, Iowa on May, 30, 1922 the daughter of Williams and Alma (Karlsdatter) Kohlstedt. She graduated from High School in Linn Grove, Iowa and then attended Fullerton Junior College in California. Elna then took aircraft training at Long Beach, California and went to work for an aircraft manufacturing plant in Southern California. She then took a modeling course in Portland, Oregon. She then moved to Dillon, Laurel, Baker, and then to Broadus, Montana where she worked a a Linotype operator setting print for the newspaper. Later Elna held two jobs concurrently; working as Deputy County Assessor and Town Clerk. After a few years, she continued with only the Deputy County Assessor position, finally becoming County Assessor. She worked for the county for twenty-three years. In 1966, she married Warren Linville in Sheridan, Wyoming.
Elna was a member of the VFW Auxilary and was a Past Matron on the Eastern Star and held many offices. She was also on the town council.
---
Bud & Arletha Drexel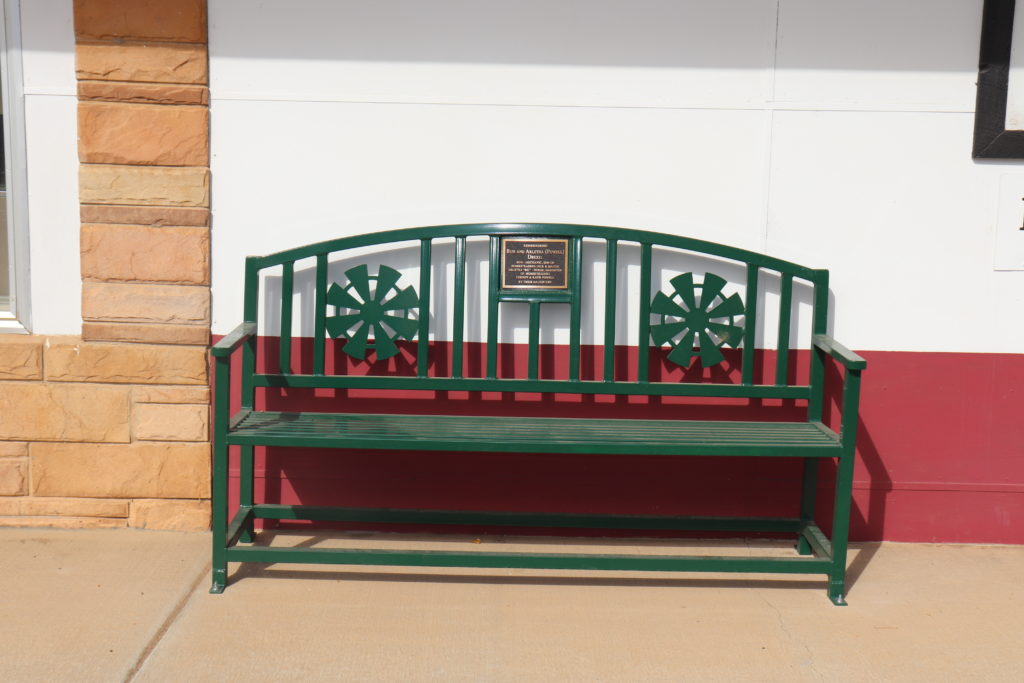 Richard "Bud" Edward Drexel, age 77, of Broadus, Montana passed away Thursday, November 30th, 1995 at the Powder River Manor in Broadus
Bud was born on August 2, 1918 in Helena, Montana. He was the adopted son of Richard (Dick) and Maude Keller Drexel. He attended schools in Powder River County and graduated from the Powder River County High School. He joined the C.C.C. during World War II, working at Fort Peck and in Arizona. Following he returned to Broadus where he owned and operated Bud's Repair.
Arletha Powell and Bud were united in marriage on September 30, 1940 in Broadus, Montana. They moved to Missoula in 1957 where Bud went into sales for many years. They returned to Broadus in July of 1995.
---
Arletha Powel Drexel was born October 23, 1918 to Katie and Vernon Powell on a homestead on Ranch Creek near Biddle the fifth of six children. The family moved into Broadus where her father partnered with another man in the flour mill he later opened a blacksmith shop and remained in Broadus throughout her school years.
Arletha graduated in from Powder River High School in 1936 and went to nursing school at Deaconess Hospital in Great Falls where she graduated in 1940. She returned to Broadus after graduation.
She married "Bud" Drexel on Friday the 13th of September, 1940 wearing a black dress. That marriage lasted for 55 years. So much for superstition. They raised three daughters. In 1956 they moved to Kalispell and a year later to Missoula. She began her working career at Missoula Community Hospital where she worked until the family moved to California. She worked as the IV Therapist at Roseville Community Hospital where she retired after 20 years. After retirement, they moved back to Missoula where they remained until returning to their roots in 1995.
Bic loved to play cards and was an active member of the 500 club for many years. She was president of the Senior Citizens organization for several years. She was also active in Ladies Auxiliary and Broadus Homemakers. She loved flowers but hated dandelions. She would spend hours sitting in her front yard digging each individual dandelion out.
Arletha passed away on October 17, 2007 at Powder River Manor where she had been a resident for 3 1/2 years. She remained throughout her life the consummate nurse. In every situation she would go into her "nursery" mode and be ready with a comment or bit of advice whenever asked.
---
A.W. and Ruth Heidel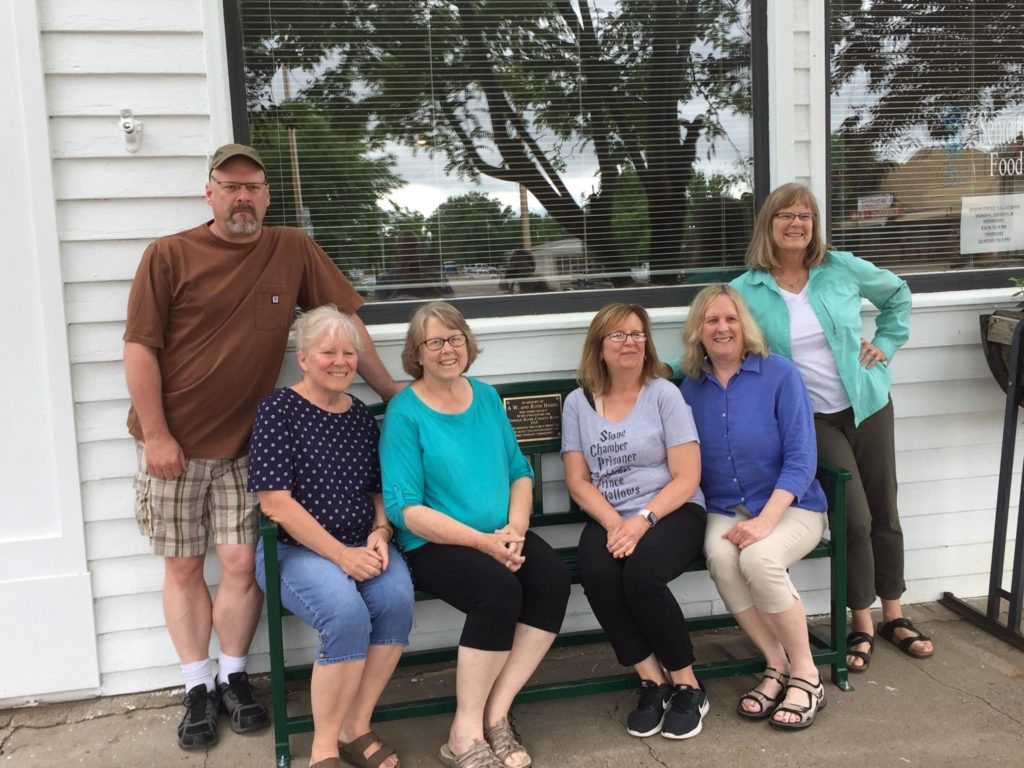 ---
Don & Bobbie Heidel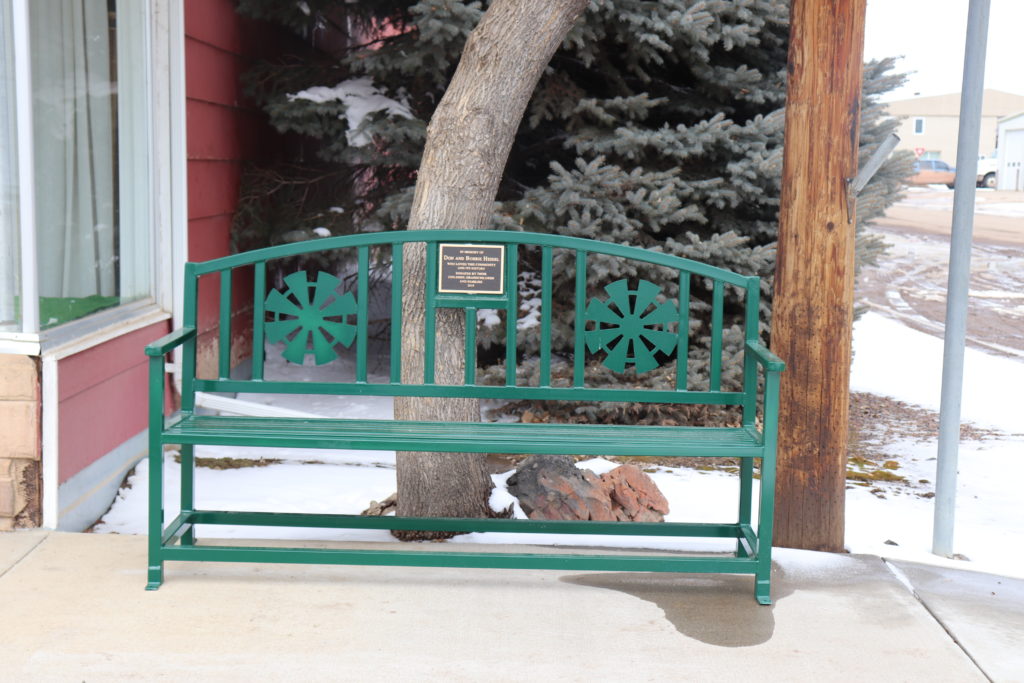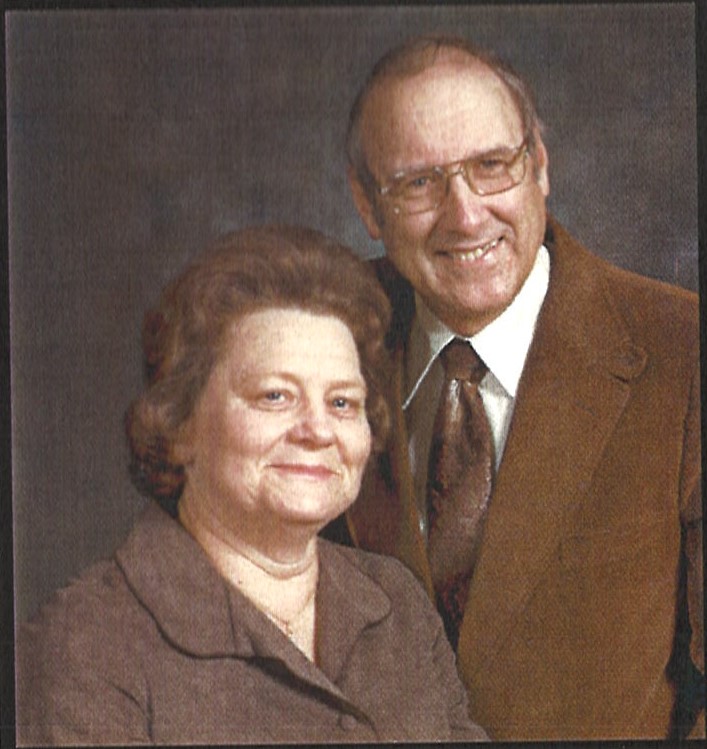 Don Heidel
July 23, 1923-
April 1, 2003
Bobbie Heidel
January 8, 1928-
January 7, 1998
Bobbie Frances Burris Heidel, age 69, of Broadus, MT, passed away early January 7, 1998 at the Powder River Manor in Broadus, following a long illness. She was born on January 8, 1928, in Tellico Plains, Tennessee, the daughter of William O. and Opha Shell Burris. She was a graduate of Tellico Plains High School, attended King College in Bristol, Tennessee, and graduated from Maryville (TN) College with a B.S. in Home Economics. She came to Broadus New Year's Eve 1948 to teach home economics in the local school system.
On July 23, 1949, she married Broadus native Don Heidel in Tellico Plains and resumed her teaching career in Broadus. To this union seven children were born. After retiring from teaching, Bobbie remained active in the school system serving as a substitute teacher, proud of the fact she taught three generations of students during her 47 years of teaching. She placed a high value on education and encouraged young people to always do and be their best. Bobbie was actively involved in the Powder River Women's Club, Rainbow Girls Mother Advisor, Past Matron of Margaret Trautman Chapter No. 108, O.E.S., Powder River Historical Society, and was an active member of Powder River Congregational Church of Christ.
---
Donald Albert Heidel, age 79, passed away in Broadus, MT on April 1, 2003 just 3 blocks from where he was born on July 23, 1923. Don was the son of Albert Weiser and Ruth Burgess Heidel. After graduating from Broadus High School in 1940, he attended the University of Montana until called to serve in the U.S. Navy as a radioman from 1944-1946. Following discharge, he spent a year at the University of Minnesota studying pre-law and business. At his father's request, Don returned to Broadus to help operate the Powder River County Bank, which his father helped create. Don's banking career in fact began in grade school, when he was employed as the janitor. On July 23, 1949, Don married Bobbie Burris in Tellico Plains, Tennessee, whom he loved and cherished for 49 1/2 years until her death in 1998. To this union seven children were born. Upon retirement as Bank President in 1985, he continued to serve the banking community as Director and on the Advisory Board.
Powder River County and its people were Don's favorite pastime. He was actively involved in many community activities, including the Powder River Historical Society and Museum, a 50+ year member of the Powder River Lodge No. 135, the Scottish Rite, York Rite, and other Masonic affiliations, Margaret Trautman Chapter No. 108 O.E.S., Al Bedoo Shrine, the Powder River Commercial Club, and was a founding member of the Broadus Country Club. Don took pride in the fact that through strictly write-in ballots, he was continually elected to the office of Public Administrator for the County for the past 45 years. He was most faithful as a volunteer for senior citizens, at the Powder River Manor, as well as the local schools, where he also assisted as a substitute teacher. As a loyal member of the Powder River Congregational Church, Don not only held all church offices at various times, but taught Sunday school and was a choir member for over 55 years. For all the volunteering he did, Don will most fondly be remembered for his sense of humor and love for words, an uncanny ability to remember the detailed history of the County and its families, and the way he thought of each person as an old friend.
---
Wesley & Lois Powell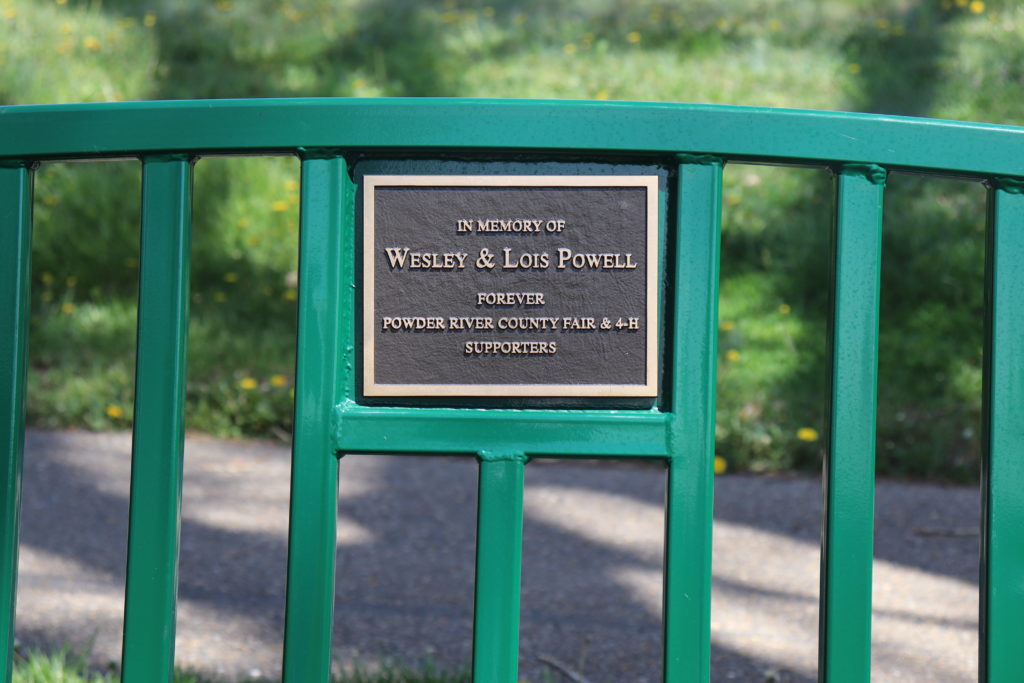 Wesley Powell, age 82, of Broadus passed away on Tuesday, August 17, 2010 at the Pioneer Manor in Gillette, WY.
Wesley Powell, the son of Lisle and Anna (Anderson) Powell, was born on December 21, 1947, in Broadus, MT. He grew up around the Broadus area, working on his father's ranch and attended school at the Bergeson Country School located near Ranch Creek. He graduated from Powder River High School in 1945. After high school, he went to Montana State College for a short time before moving back to the family ranch.
Shortly after moving back, Wesley met Lois Bartholomew and after dating for about a year they got married on September 16, 1949 in Miles City, MT. To this union they had two children; Stanley and Terry. After they were married, Wesley and Lois moved out to the ranch where they lived in a little trailer house for several months before they were able to build a new home. He enjoyed working on the ranch, but in the late 1960's, when the opportunity came, Wesley took a job with the oil field and was a contract pumper for one of the first oil wells in the area. He continued to work on the ranch and in the oil fields until he retired after thirty years in the oil field. After retireing he took on many odd jobs, one being a cattle hauling business that he would do for neighbors and other who needed him. Wesley was active in many different community groups including being a member and president of the Powder River County Farm Bureau, and the Commercial Club. He was also very involved in the 4-H Council, Fair Board, and Toastmasters. Wesley truly enjoyed being able to spend time with his friends and family.
---
Carl Samuelson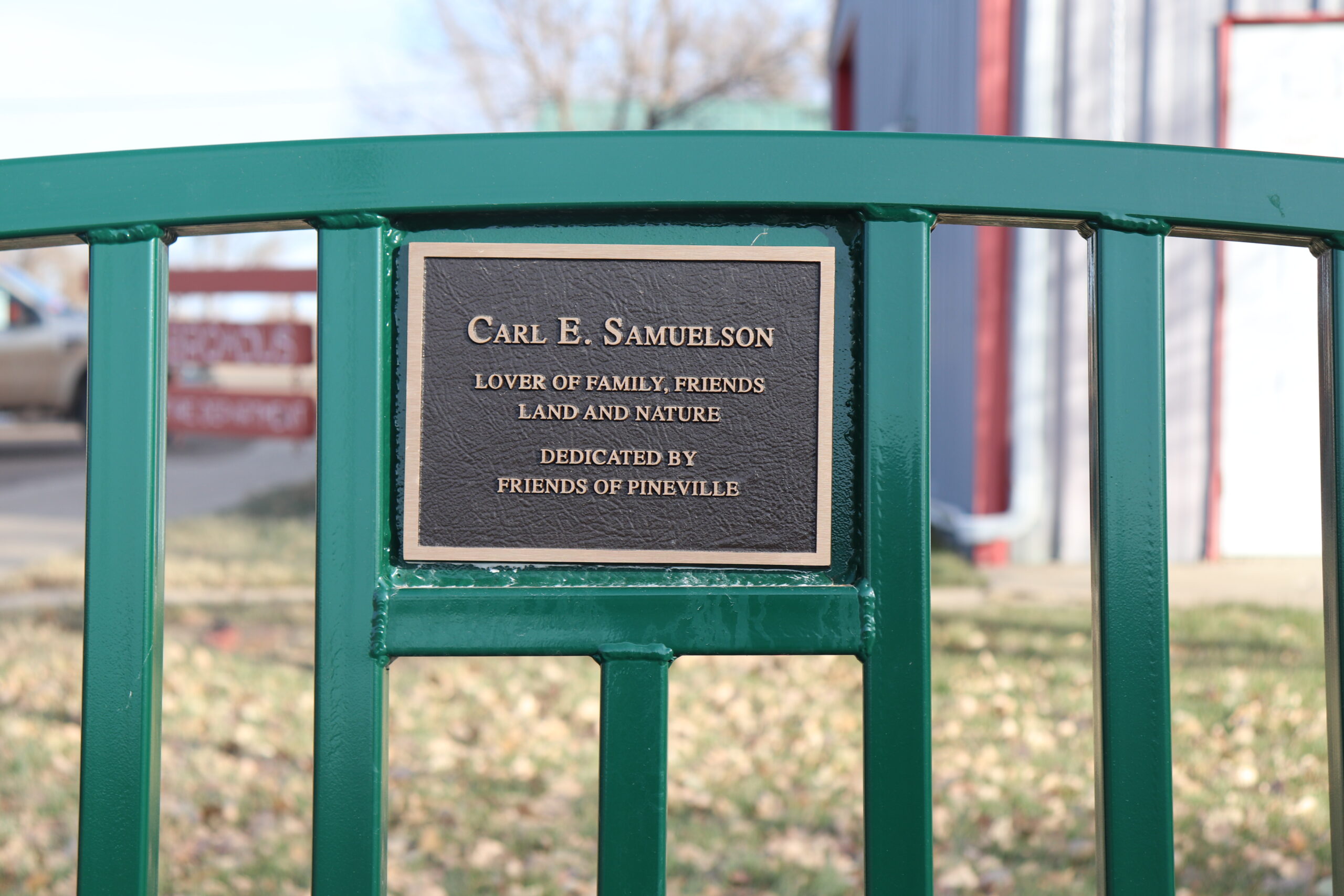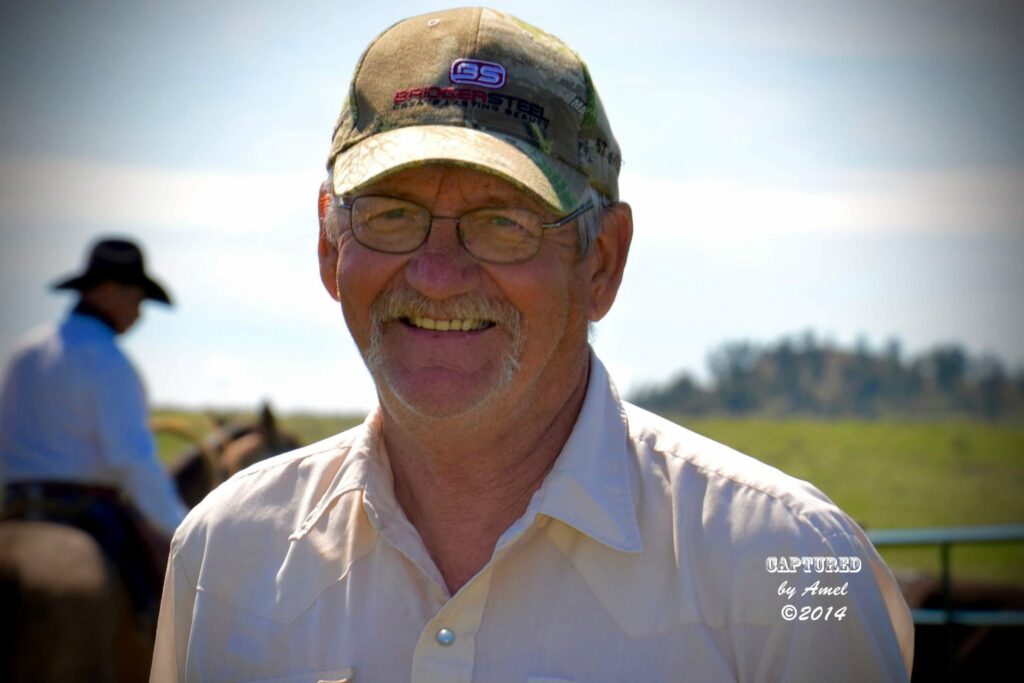 Carl Samuelson
November 4, 1949-November 21, 2019
Carl Edward Samuelson III, age 70 of Broadus, Montana passed away on November 21, 2019 at the Hospice House in Rapid City, South Dakota, after a courageous battle with cancer.
Carl was the first child of Voyle and Virginia (Shannon) Samuelson, born on November 4, 1949 in Deadwood, South Dakota. They lived on Cherry Creek in Little Ireland (SD) until 1959. Voyle and Virginia bought a ranch on Pumpkin Creek in southeast Montana and moved there with the family. Carl and his siblings, Sherry, Sid, Norman and Don grew up on the ranch.
Carl attended high school in Broadus where he met Melanie Hagman in 1967. After high school, Carl attended college in Laramie Wyoming for auto mechanics. On August 11, 1969 he and Melanie married. They made their home on the Samuelson ranch and raised four children; Amy, Holly, Carrie and John.
Throughout their 50-year marriage, they were a team that met the good times and the bad times hand in hand. Family was most important to them and they had more fun together than most people have in a lifetime. For his children he was their hero, their anchor, their rock and a constant source of unconditional love. They knew he would always be there for support and to listen. His grandkids adored him and treasure the time spent with him. Carl had a special gift with kids. He was happiest when there was a yard full of kids, be it his nieces, nephews, grandkids or neighbors and friends.
Carl had a great love of the land and nature itself. The ranch that he moved to when he was 10 was where he spent his entire life. He spent many happy years with his kids teaching them by example how to value, love and respect the land. He, with the help of his best friend Bub, created a little piece of paradise, Pineville. A camp, where he and his friends and family could…just be.
Carl loved hunting. It meant many things to him: comradery with his hunting buddies with secrets left untold; to witness his kids and grandkids experience the true joy of hunting; making new friends to last a lifetime through guiding. His trips to the Gravellys and Alaska were especially meaningful.
Carl was actively involved in youth shooting sports and proud to be a hunter safety educator for over 30 years. Carl was a member of Our Savior's Lutheran Church. He served on the church council and the school board. Carl contracted with the Forest Service as a firefighter for many years. He was part of the crew that fought the fire in Yellowstone National Park in 1988. Carl had his pickup with a water tank filled in the summers ready to put out fires on the ranch or any neighbor who needed help. Carl was endless in his helping neighbors. Branding season meant great company and having the reputation of being the best with a knife.
His family would like everyone to remember his kind and generous spirit, his strong will and his unending commitment to the people he cared about. His passing leaves a hole in our hearts and in our community.
Carl is survived by his mother, Virginia; his loving wife of 50 years, Melanie; his children, Amy (Russ), Holly (Bret), Carrie, and John; his brothers Sid (Gaye), Norman (Julie), Don (Pat); brother-in-law, Dick Gaskill; grandkids, Neddie (Kyle), Kali (Grant), Shawn, Maddy, Jack, Alec, Lexi, Natalie, Sam, Jake, Ali, and Rhett; great grandkids, Morgan, Emory, Gary, and Marilyn; many loved nieces and nephews; and close friend, Bub Morgan.
Carl was preceded in death by his father, Voyle; beloved sister Sherry; and his grandparents.
---
Class of 1976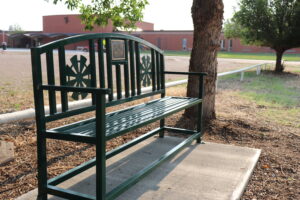 ---
Ron & Twila Talcott and Joe & Margie Chiesa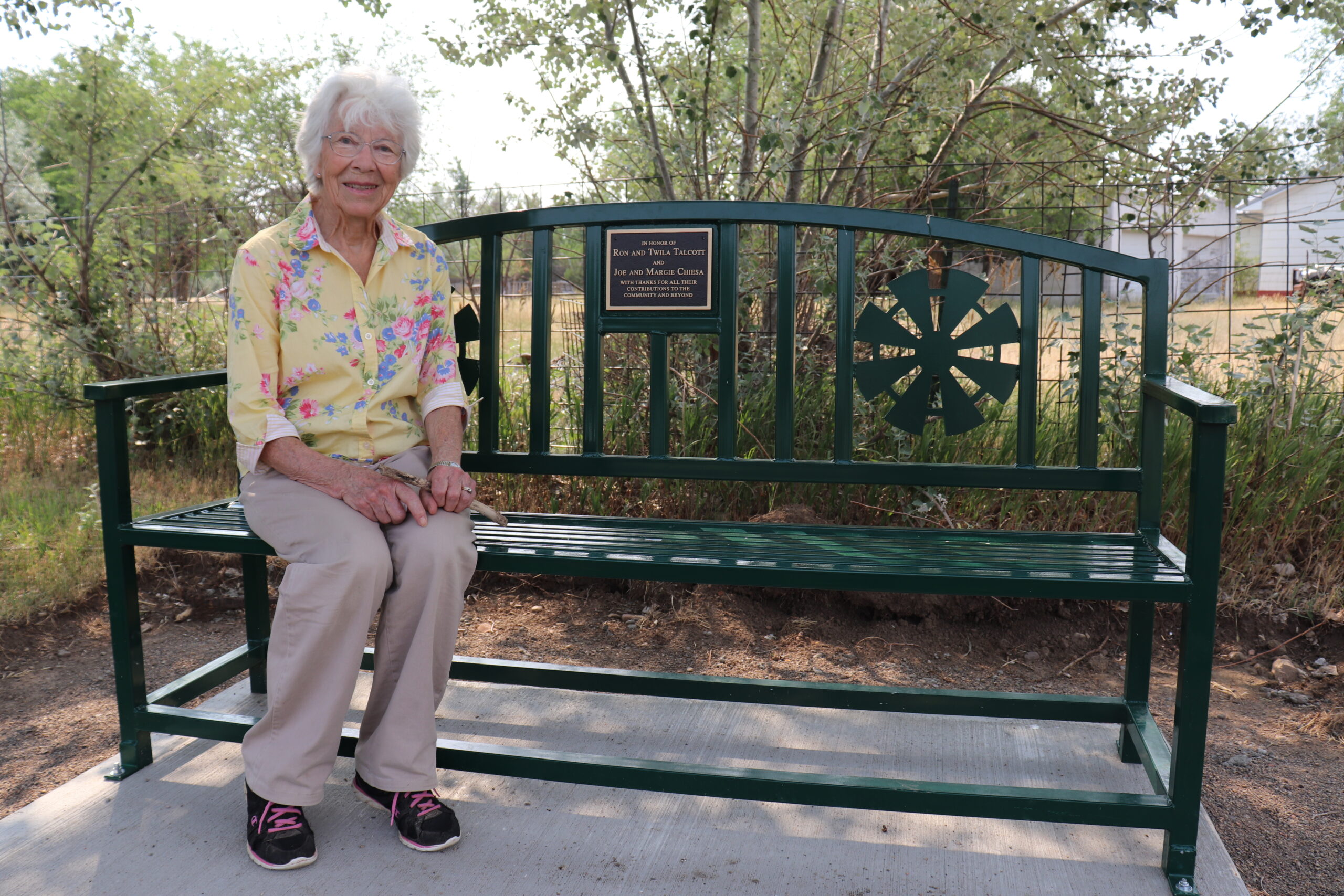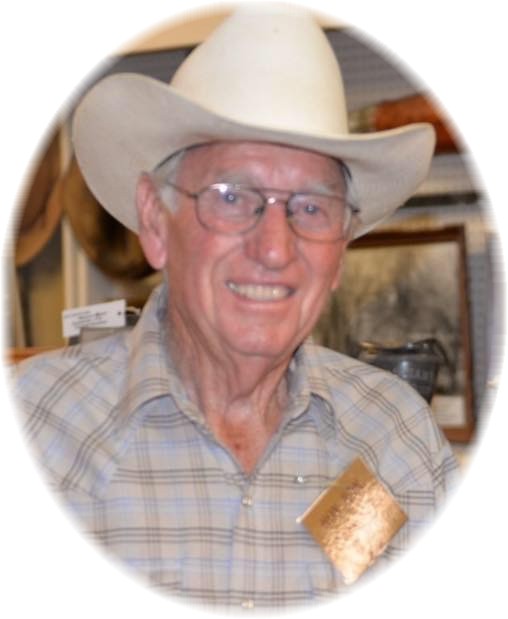 Ronald Talcott
November 4, 1936-September 25, 2019
Ronald Leroy Talcott was born on November 4th, 1936 in Trinidad, Colorado, the oldest of three sons born to Margie & Louie Talcott. They moved to Montana in 1947 where he and his brothers attended school at Hammond & Boyes. Ron was able to attend high school in Broadus by boarding in town where he participated in sports & other school activities. Twila Jo Chiesa & Ron Talcott married in 1956 & treasured nearly 64 years of loving companionship. They made their home in Broadus where they raised their two children, Duane & Jody.
Ron was fully involved in his children's lives & happily included the kids' friends in activities & on excursions. His heart grew with the expansion of his family, welcoming his daughter-in-law, Debbie & son-in-law, Wayne. When grandsons Joey & Chase Talcott came along he was delighted in being a part of their everyday adventures. Ron celebrated with his grandsons as they married & brought into his fold granddaughters-in-law, Beth & Shanna. Then came the great grandchildren. Oh, my what a joy they brought, Scarlett, Millie, Porter, & Kane! Whenever you were at Ron & Twila's, Ron would always have the latest pictures of their cherished great-grandchildren less than a reach away and would proudly tell you about each one.
For over 30 years Ron was manager of Cal-Gas & then owned his own propane company, Ron's Propane, for 10 years. He had developed a deep appreciation for Powder River County & its residents while delivering gas in the early years and always wished he had recorded or written down their stories. "Ronnie's" visits were anticipated, and he was often invited in for a meal or a piece of pie by those he called his "warm" friends. He also enjoyed taking his grandsons on occasional service calls.
During that time, Ron & Twila were also involved in farming and ranching. Ron enjoyed the peaceful solitude of milking the cow each morning before breakfast and starting off to the propane company job. Duane & Jody benefitted by having the best of both worlds- the town & school activities & the satisfaction of hard work well done. Duane and his wife Debbie joined in expanding & running the ranch operation in the mid 70's and, Jody and Wayne often help with working livestock. Later, grandson Chase joined the ranch, adding mechanical skill & youthful energy to the 3-generation ranch. Grandson Joey takes the opportunity to come from Alaska and help as needed. Ron spent countless & priceless hours teaching his grandsons all he knew about irrigating, farming, hard work & being a gentleman.
Jody & Wayne live in Gillette, Wyoming and have a successful survey supply business. They come to Broadus to help with ranch work often.
While running a business and ranching with family, Ron also found time to be a volunteer fireman, committeeman for Farm Home Administration, Powder River Conservation District supervisor for over 50 years, Broadus City Councilman & later Mayor for 2 terms, Chairman of the County Weed Board for nearly 50 Years, Bank Director for Powder River County Bank & later Rocky Mountain Bank, Member & Master of the Masonic Lodge & Worthy Patron of the local Eastern Star when Twila was Worthy Matron of that organization. Both Ron and Twila have been active members of the United Congregational Church of Christ for many years and are charter members of the Powder River Historical Society. Ron spent many hours volunteering at the Powder River Historical Museum, and enjoyed meeting the new friends and many visitors. He always relished the chance to introduce the grade-schoolers to all we can learn from our history.
Ron was preceded in death by his parents Louie and Margie Talcott. Ron is survived by his wife Twila Jo, son Duane (Debbie) of Hammond, daughter Jody (Wayne) Kruse of Gillette, Wyoming, grandsons Joey (Beth) Talcott of Anchorage, Alaska, and Chase (Shanna) Talcott of Broadus, and great grandchildren Scarlett, Millie, Porter, and Kane Talcott, brothers Wayne (Louise) Talcott and Robert (Illa Dee) Talcott both of Broadus, numerous nieces and nephews and great nieces and nephews.
Joe Chiesa
1907 – June 1963
Margie Chiesa
March 14, 1917-January 1, 1984
---
Lars & Billie Knudson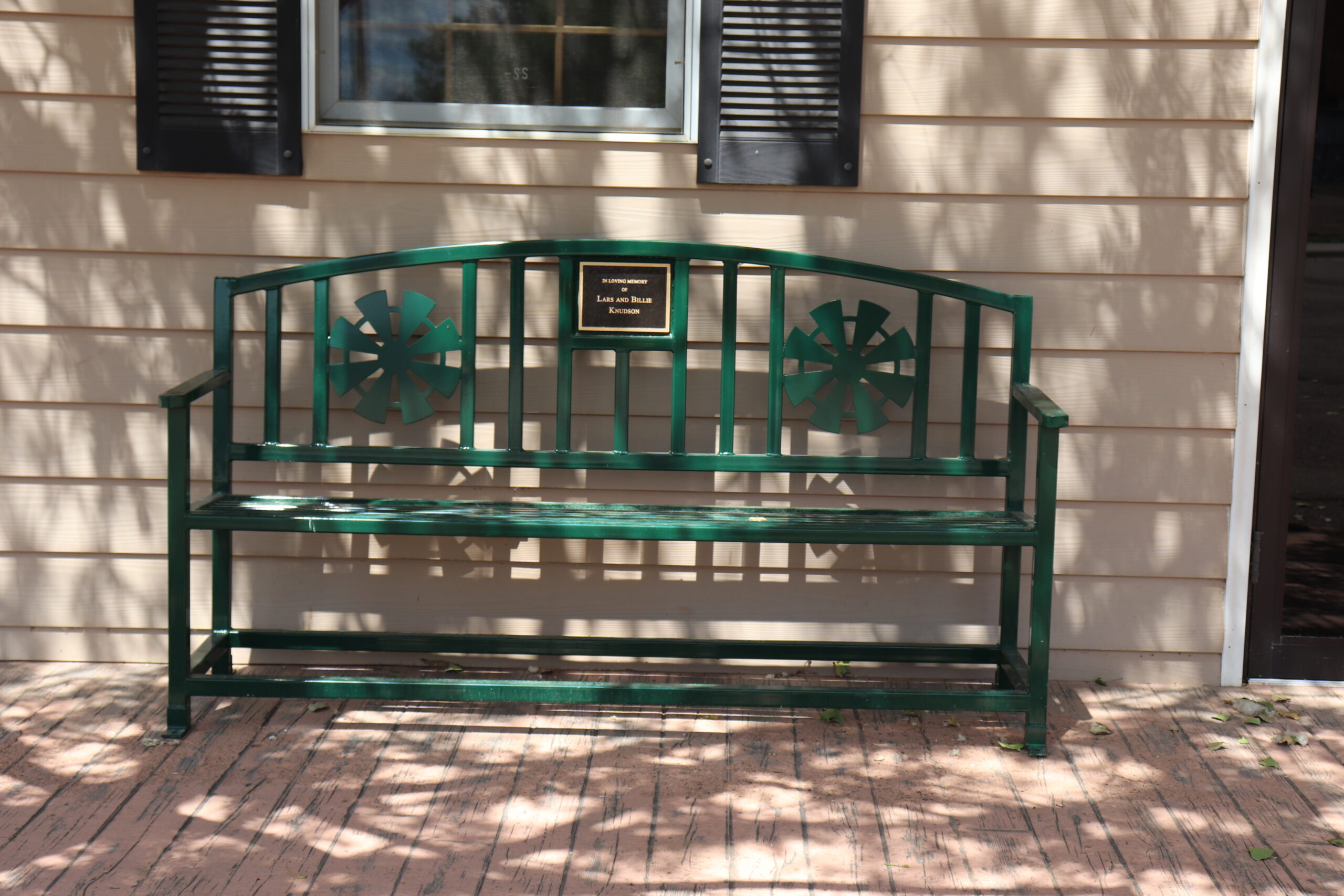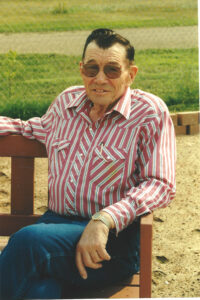 Lars E. Knudson
2/25/1923-5/23/2015
Lars E. Knudson, age 92, passed away on April 23, 2015 at the Holy Rosary Health Center in Miles City, Montana with his family at his side. Lars was born on February 25, 1923 in Miles City to BMR "Bert" and Lorena Harris Knudson and was raised on a ranch near Sonnette along with his sisters, Vivian and Bernice. Lars attended schools in the area, graduating from Powder River County District High School in Broadus. He then attended Montana State University in Bozeman, Montana for one year before heading home to the ranch to help his father. In 1950, Lars married a neighbor girl, Billie Sterling. She fit into the ranching lifestyle, working on the ranch with Lars while raising their three daughters, Ann, Gaye and Bea.
Ranching was Lars' life, leaving very little time for traveling and recreation but he did manage to find time to serve on various boards including the St Onge Livestock Board. His ability to work hard proved successful enough to allow Lars and Billie to retire to Broadus in 1982. Even though Lars moved to town, he still continued to help at the ranch as often as he could, loving the life of a rancher. He did enjoy getting together with family and friends to dance, throw horseshoes and play cards.
Lars is survived by his wife of 64 years, Billie Knudson of Broadus, MT, daughters, Ann Emmons (Tom), Gaye Samuelson (Sid) both of Volborg, MT and Bea Knudson of Miles City, MT, grandchildren, Brett Emmons (Kimber) of Volborg, MT, Jacy Collins (Jim) of Biddle, MT, Shawn Samuelson (Kim) of Billings, MT, Kevin Samuelson (Sami) of Volborg, MT, Mandy Rambur (Todd) of Billings, MT, Heidi Samuelson of Volborg, MT, Cody Samuelson (Jessica) of Roundup, MT, sister, Bernice Chestnut of Billings, MT, sister-in-laws, Betty Stabio (Charley) of Broadus, MT, Bonnie Lyda (Dennis) of Sonnette, MT and 13 great-grandchildren. He was preceded in death by his great-granddaughter, Kenna Emmons, sister, Vivian Phair and brother-in-laws Charles Alderman, Bob Phair and Wayne Chestnut.
---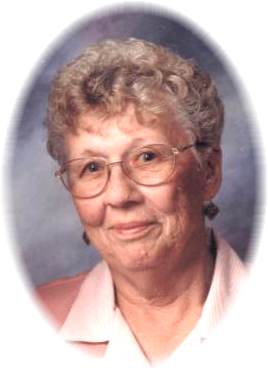 Billie L. Sterling Knudson
6/27/1930-6/11/2021
Our mother, grandmother and sister, Billie L. Sterling Knudson, passed away on June 11, 2021. Billie was born on June 27, 1930 to Ulon Brock "Bob" Sterling and Emma Ann Mankameyer in Sheridan, Wyoming.  Bob was the Sonnette postmaster and a rancher.   Emma was a general store owner at Sonnette, Montana.  In 1931, sister Betty Lou was born and Billie now had a sidekick to play with.  They worked hard helping on the ranch and at the store as children but still found time to have fun.  Billie attended school through the 5th grade in Arvada, Wyoming where she lived with her grandmother, Grace Mankameyer. She attended 6th through 8th grade at the Mitchell School near Sonnette before attending her freshman year of high school in Miles City, Montana, living with JoAnn and Carl Smith, her aunt and uncle.  About half way through the year, Billie came back to Broadus to go to school with Betty.  In 1946, little sister, Bonnie, came along and Billie stayed home from school for that year to take care of her so her mom could operate the store and post office.  Billie returned to school the following year and graduated with Betty.
When Billie was a senior, she did not have a date for the high school prom. Aunt Hazel Palmer suggested she ask Lars Knudson, a 25 year old neighbor who lived 10 miles from the Sonnette Store. Billie asked Lars to go, he said yes! Three years later, on October 20, 1950, Billie and Lars married in Roundup, Montana. To this marriage were born three children: Ann in 1952, Gaye in 1954 and Bea in 1955. Billie raised her children and worked the ranch with Lars for 42 years until she retired to Broadus in 1982. Billie enjoyed visiting with the grandkids and by fixing lunch for 8 grandkids over a span of 30 years during the school years gave her that opportunity. The grandkids and their friends were always welcome at Grandma Billie's house.
Billie had a great love of sports. Before she married, her goal was to be a Physical Education Teacher. She had the opportunity to enjoy part of that goal when she coached the Broadus Girls Golf Team for 10 years. Her interest in sports extended into watching the grandkids participate in sports throughout their Junior High, High School and College careers. She even made the long trek to Missoula to watch Shawn play basketball for the Griz. Billie could talk football, basketball and golf with the best of them. Bowling, fast pitch softball and golf were other sports she enjoyed playing to the fullest.
Billie loved to dance from her teenage years through her senior years. She shared stories of her and Betty going to country dances with the Melville boys, getting home just in time for her mother to tell them to get the coffee started. Lars and Billie shared their passion for dancing with sisters, Betty & Charles and Bonnie & Dennis.
Billie hosted and attended many card parties over the years. Friday was a favorite day of the week because several family and friends gathered to play Pinochle. She did love playing cards with her friends and especially with her daughters, Bea, Gaye and Ann and sisters, Betty and Bonnie. When she was living in the Powder River Manor, she looked forward to seeing family and friends that came to play cards.
Billie is survived by her children: Ann (Tom) Emmons, Gaye (Sid) Samuelson and Bea Knudson; grandchildren: Brett (Kimber) Emmons, Jacy (Jim) Collins, Shawn Samuelson, Kevin (Sami) Samuelson, Mandy Samuelson (Todd Rambur), Heidi (Cody) Terrett and Cody (Jessica)Samuelson; great grandchildren: Malachi (Savannah) Emmons, Jared (Kylie) Samuelson, Shane (Kola) Samuelson, Addison Rambur, Emma Isaacs, Cale Emmons, Gracie Gali, Kade Samuelson, Kensi Emmons, Caty Emmons, Deacon Rambur, Brock Gali, Landyn Merwin, Karlee Emmons, Sidney Samuelson, Whitney Samuelson and Willow Samuelson, great great grandchildren: Jordyn Samuelson, Blair Samuelson and Barrett Emmons. She is also survived by her sisters, Betty Stabio and Bonnie (Dennis) Lyda. Billie's husband, parents, great granddaughter, Kenna Emmons and brothers-in-law, Charles Alderman and Charley Stabio preceded her in death.
---
Royce & Gladys Linville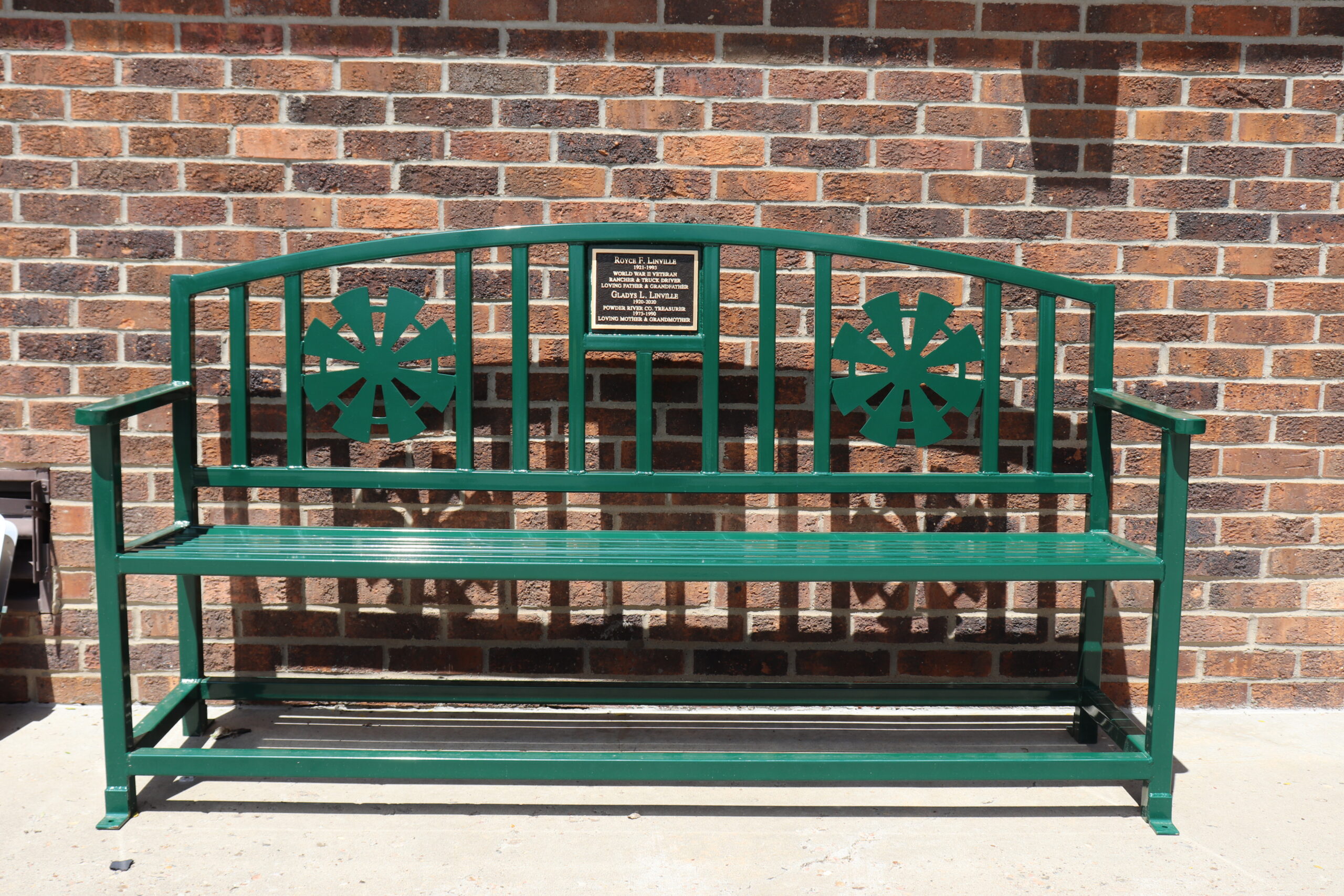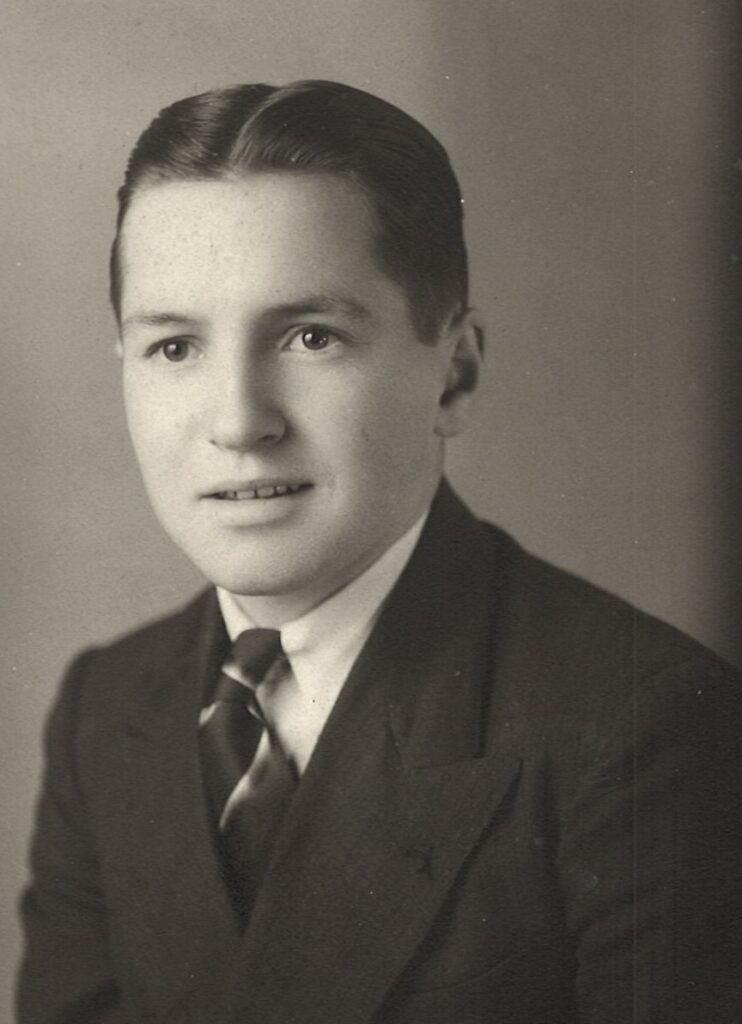 Royce Linville
7/10/1921-11/10/1993
Royce Linville age 72 of Broadus passed away Wednesday, November 10, 1993 at the Friendship Villa in Miles City following a long illness.
Royce was born in Miles City, Montana on July 10, 1921, the son of Frank W. (Jake) and Ilah Ames Linville. he was raised on the home ranch on Powder River just east of Broadus and attended schools at Broadus and graduated from Powder River County High School. He enlisted in the U.S. Army on March 13, 1942, and served most of the next four years in active service on the European Front during World War II. He served in the Battle of the Bulge and received the Distinguished Unit Citation Badge.
Gladys Wiecheman and Royce were united in marriage in May of 1947 at Terry, Montana. He went into the trucking business with his cousin, Stanley Ames and later went to work for A.J. Bone Trucking. He returned to the family ranch when his father passed away in 1960 where he raised cattle and sheep. In May of 1987 he was forced to retire due to ill health. He enjoyed playing with the Red Devils baseball team in Broadus in his younger years and was an avid baseball fan. He took great pride in the livestock he raised and was meticulous in his care for them.
Royce is survived by his wife, Gladys of Broadus, Montana and his daughter, Linda and her husband Dennis Robinson of Lewistown, Montana; brother, Warren and wife Elna Linville of Broadus, Montana; three grandchildren, Michele Robinson of Fairbanks, Alaska, Chad and Nicole Robinson both of Lewistown, Montana, and he will be greatly missed by all. Royce was preceded in death by his daughter, Lana Royce Richards and grandson, David Royce Richards.
---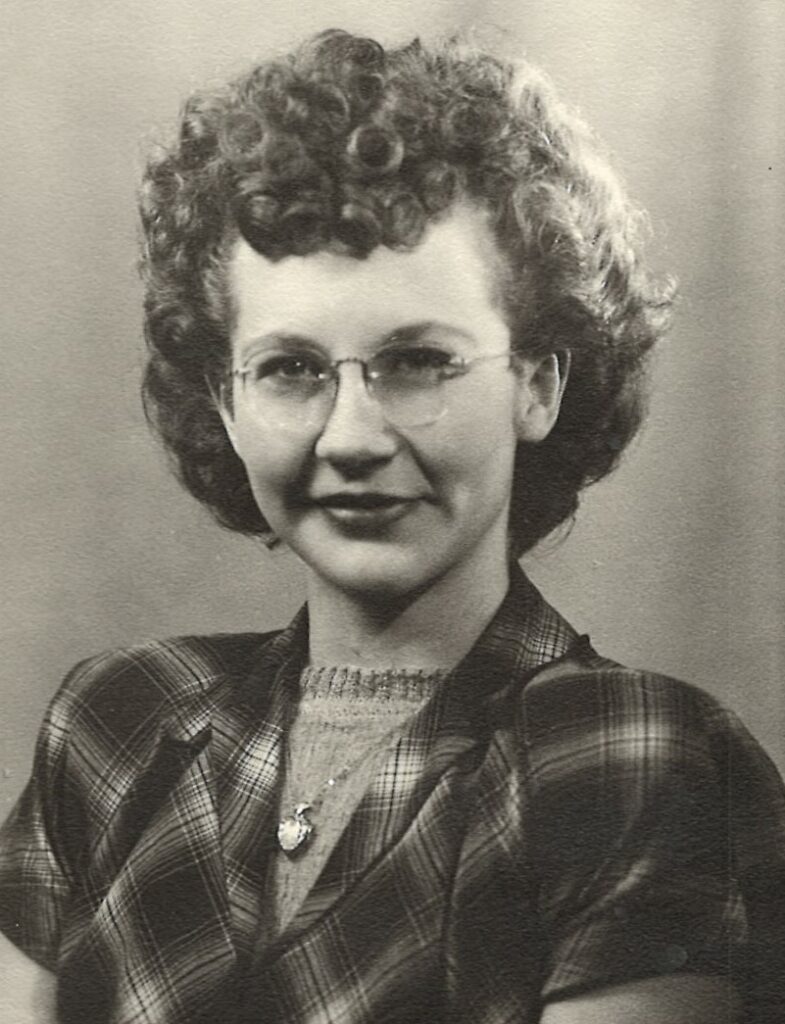 Gladys Linville
1/6/1930-10/16/2020

Gladys Louise Linville, 90, of Broadus, and most recently of Lewistown, passed away October 16, 2020. Gladys was born January 6, 1930, the second daughter and fourth child of William and Jessie (Wilbur) Wiechman. At three months of age she moved with her parents and two brothers from the Crow Rock area to the Home Creek area near Ashland, Montana, this being her grandfather's homestead. Gladys attended the Home Creek school a few miles from home for all the elementary grades but the third and fourth, which were spent in Miles City when her brothers were in the last two years of high school. She boarded out her four years of high school, which were spent in Broadus and graduated from there in 1947.
She was married to Royce Francis Linville on May 3, 1947, in Terry, Monana, and they spent all their married years in or near Broadus. Of this union, two daughters were born–Linda on August 26, 1948, and Lana on August 25, 1950. Gladys worked for Paul Mann at Smith's Jewelry in Miles City in 1947 and 1948 while Royce was on the road in the trucking business. She worked for Step and Ruby Holt at their drugstore from 1954 until the end of 1967, then worked in the county treasurer's office from February 1968 until the end of December 1990 when she retired because of Royce's ill health. He died November 10, 1993. She held the position of Powder River County Treasurer for four consecutive terms. Gladys did quite a bit of traveling, including making two trips to Alaska to visit granddaughter Michele. She did volunteer work at the museum and enjoyed line dancing with her friends. Gladys later shared happy times with Clarence Swope, her close friend. In 2018 Gladys moved to Lewistown to be closer to her daughter Linda and grandchildren. Gladys had a big heart. She will be remembered as a loving and giving wife, mother, grandmother, and great grandmother. She always had treats ready for the grandkids and was their biggest fan, often traveling to watch them in their activities. She's remembered by them as generous, warmhearted, and easy to talk She had a supportive, easy going, and accepting personality, which made her a favorite of many. She will be greatly missed.
Gladys is survived by her daughter Linda and son-in-law Dennis Robinson, who were able to share many good times with Gladys in Lewistown; grandchildren Michele (Rob) and son Cord McCue; Chad (Lisa) and children Jalen, Royce, and Ava Robinson; and Nicole (Scott) and children Carter, Sydney, and Natalie Wichman. She was preceded in death by her husband Royce, daughter Lana, grandson David, and special friend Clarence.
---
John Mangen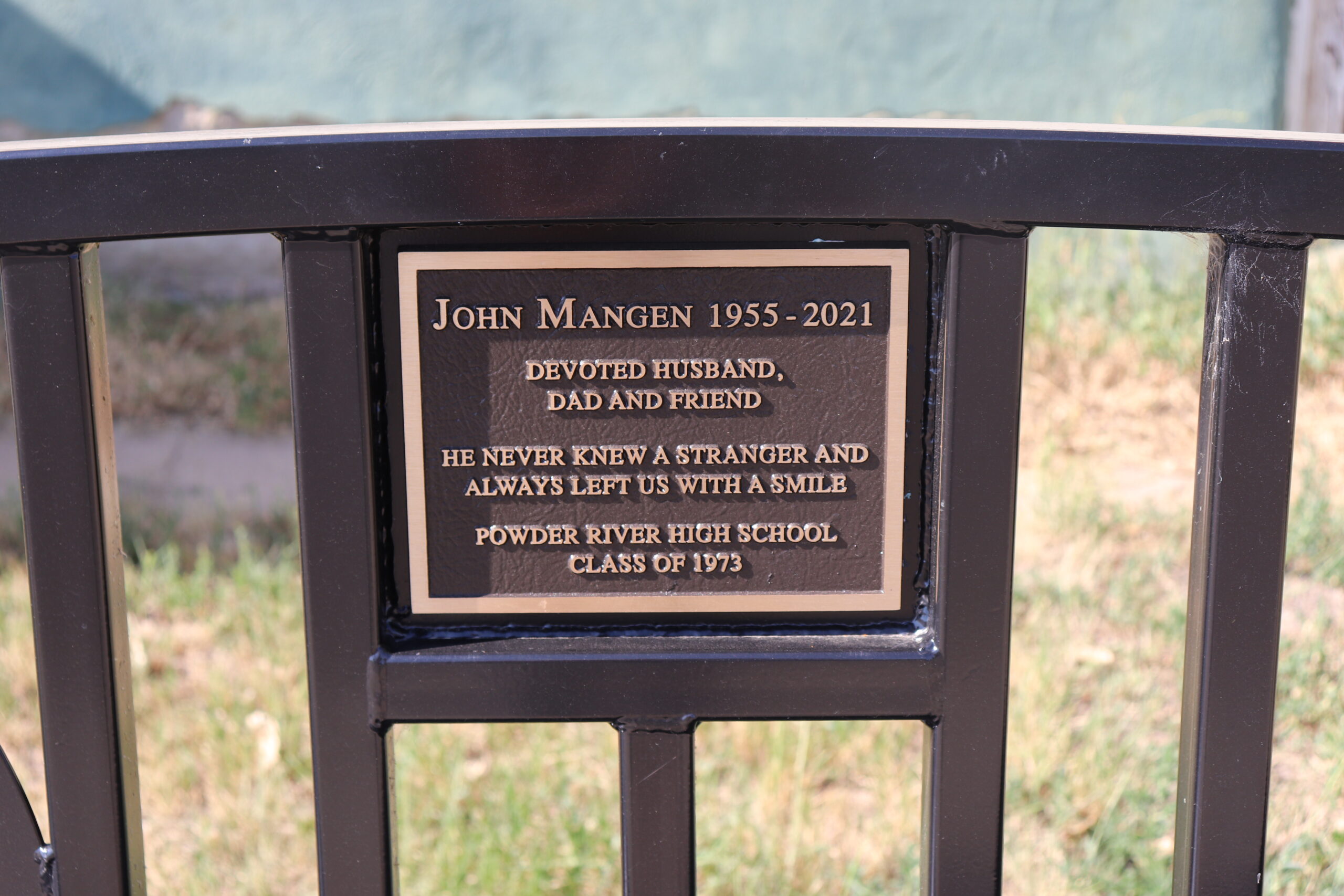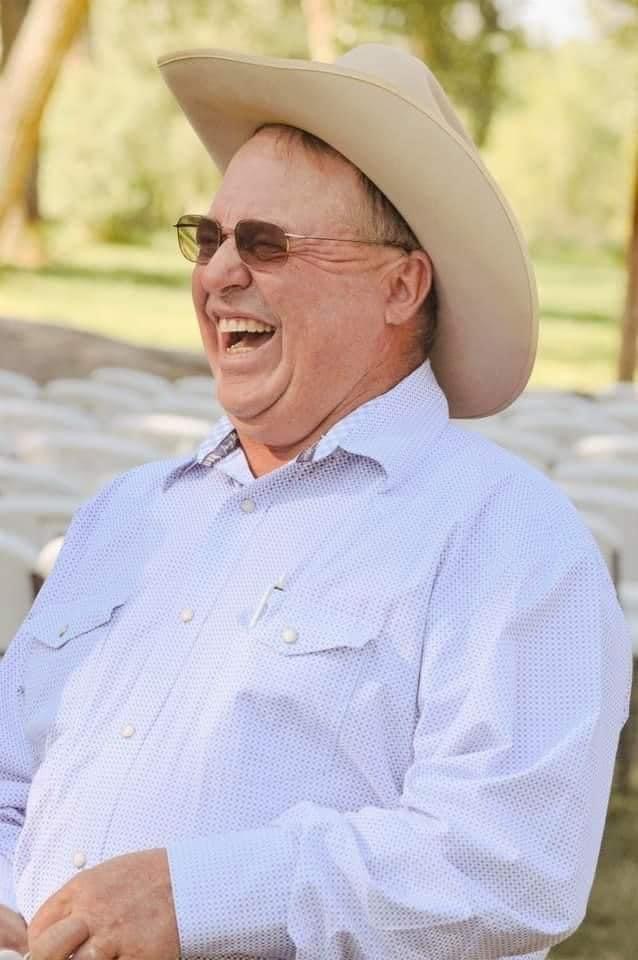 John Mangen
8/29/1955-10/24/2021
John Mangen of Broadus, MT died Sunday, October 24, 2021 at the Billings, MT hospital at the age of 66.
John Jay Mangen was born to Chris and Loretta Mangen on August 29, 1955. John grew up on his family ranch with his older brother, Chris and younger brother, Dan. Even as a little kid, he always wanted to go with his Dad, even if it was just to sit with him on a tractor plowing on a hot, dusty afternoon.
John graduated from Powder River County High School in 1973 and moved to Miles City to study electronics at Miles City Community College. He graduated with his Associate of Applied Science Degree in 1975. His father told him that he had to work for someone else for at least a couple of years before he could come back to the ranch. He worked as a mechanic along with numerous other duties at Mac's Frontierland. During his time in Miles City he met Pamela Hewett and the two were wed on August 7, 1976. A year later in December, they welcomed their first daughter, Melissa. Shortly after that, John moved the family back to Broadus to work with his father and continued to build Mangen Angus Ranch. In August of 1980, he welcomed his second daughter, Amanda. John was a devoted father to his daughters. He was always proud to tout (and maybe slightly exaggerate) their accomplishments.
John Mangen married Mary Alice Bilbrey (Snookums) July 2, 2005 at the ranch. They made a home together at the homeplace in Broadus, MT. Between the two of them they have five children, Melissa Reinhardt (Kevin), Amanda Lewis (Hal), Josh Bilbrey (Jana), Jiggs Bilbrey (Marlee), and daughter-in-law Trish Bilbrey. Grandchildren, Amelia, Oliver, Sam, Claira John, Hayle, Leighton, Ashley, Jaxon, Shaylee, Rickee, Randen, Ridger, Jace, Jeret, J'Ann, Jaxcee, Quinn, and Mallory. Brothers, Chris Jr (Shelly) and Dan (Ramona) and their children. Brother-in-laws Keith (Edith) Slovek and Doug (Sandy) Slovek. Sister-in-laws Diane (Charlie) Gittings, Kathy (Greg) Arthur and Laurie (Ron) Mann. Numerous nieces and nephews; and a host of many other relatives and friends.
Together with his dad they built the Mangen Angus Ranch that is known across the Tri-State area for their outstanding black angus cattle. John had a smile that was contagious, his honesty was impeccable and his love for his family, friends and customers was above and beyond.
Throughout John's life, Masonry was very important to him. He was inspired by his dad Chris and his Uncle Pete Mangen to join the Fraternity. He became a Master Mason in 1992. In 1999 John was asked to become a part of the Grand Lodge Line of Montana. This was a journey of eleven years, ending with him being the Grand Master (Pooh-bah) of the Masons of Montana in 2010-11. This was a proud moment for John and his family.
In 2018 John and Mary Alice purchased land at Keyhole Reservoir. There they created a second home, The Lake House. John was the first to say, let's go to the Lake House, Snookums. This was where they went to relax and make memories, memories Mary Alice will cherish forever.
Loved ones gone before him, parents Chris and Loretta, Uncle Pete Mangen, Cousin Doug Mangen and step-son Judd Bilbrey.
---